Houston — The green-and-yellow logo that BP employees normally wear with pride is meant to evoke an environmentally friendly sunflower. These days, it feels more like a bull's-eye.
Far from the spill in the Gulf of Mexico and their bosses' frantic attempts at damage control, workers for the oil giant are dodging awkward glances and tactfully avoiding any mention that they work for what may be America's public enemy No. 1.
"I don't wear BP logo shirts outside," said Timothy Hagler, a BP well site leader from Richmond, Texas, who has worked for the company and its merger partner Amoco for three decades. "I try to avoid any discussion about the matter."
In interviews with The Associated Press, more than a dozen BP employees from Alaska to North Carolina say they still love the company that has paid and treated them well for years. Now, they are just careful whom they share it with.
It's a predicament American workers have faced before when companies once considered upstanding, or at least mighty, have suddenly become tarnished. Think of employees of Exxon after the Valdez, Philip Morris after the tobacco settlement or Toyota after the recalls.
In BP's case, the public scorn is so great that a corporate security official felt compelled to send employees a memo warning them to keep a low profile and stay aware of their surroundings.
The memo, whose contents were read to the AP by one employee and confirmed by others, specifically suggested BP workers be careful walking to their cars at night. It also suggested avoiding conversations that could cause confrontation.
BP spokesman Toby Odone told the AP that he could not say whether there have been any reports by BP employees about being confronted or threatened by members of the public. The company does not comment on security matters, he said.
None of the BP employees who spoke to the AP said they had been threatened. None would agree to have his or her picture taken. Some said they were worried they might be publicly confronted.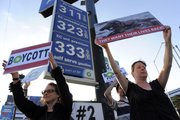 Tough times
Sherry Boldt let a woman cut in front of her in line at the grocery store last week. She was unsurprised when the woman paused at seeing the BP logo on her shirt. Boldt had been fielding them for weeks from people who were angry, concerned, or just curious.
"Times are kind of tough right now, aren't they?" Boldt recalled the woman asking. "I told her: 'Yes, we're a little busy right now."'
Boldt, a BP lobbyist in Indianapolis, gives BP retailers tips for dealing with boycotts and demonstrations and helping them answer customer questions. BP has sent posters and signs to store owners emphasizing that the stores are independently owned.
Ever the company representative, Boldt said the spill hasn't shaken her faith in BP.
"We're doing everything we can," she said. "It was just a terrible accident."
President Barack Obama cast the latest stone against BP on Tuesday in a nationally televised address in which he accused the oil giant of recklessness and vowed to make the company pay.
An AP-GfK poll released the same day found that 83 percent of Americans disapprove of BP's handling of the spill. The anti-BP invective has been so great it has alarmed people in BP's home country, where Britons depend on BP because it helps fund pension accounts.
Most of the 150 BP employees reached by the AP declined to talk, saying they were following the orders of their superiors — BP has gone to great lengths to try to control its message — or were worried about fanning the flames surrounding their company.
And they are intense. The spill has made BP the butt of late-night comedy, Internet outrage and the confab around just about every water cooler in America, not to mention constant chatter in the media.
The attention frustrates some BP employees. Hagler said he is dismayed that the oil industry has done a poor job educating the public about the difficulties inherent in offshore drilling. He said that is leading to people's misconceptions about his company.
"We're not going to destroy the planet," Hagler said. "The planet has a way of taking care of itself. If the planet gets tired of humans, it will find a way to get rid of us all."
Copyright 2018 The Associated Press. All rights reserved. This material may not be published, broadcast, rewritten or redistributed. We strive to uphold our values for every story published.