Johannesburg — Maurice Edu kicked the ball into the net. American players jumped around wildly, thinking they had capped a historic comeback, turning a two-goal, first-half deficit into a 3-2 victory over Slovenia in the World Cup.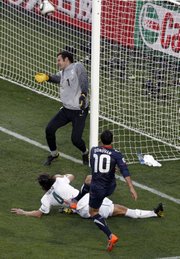 "Then I heard the whistle," Edu said.
Referee Koman Coulibaly of Mali had called it off.
Over and over, American players asked, "Why?"
In English. Then in French.
"He just ignored us," Landon Donovan said. "Or he didn't understand."
Perhaps Coulibaly, working his first World Cup game, will never explain himself. By the rules, he doesn't have to speak to the media on game days, and his next availability isn't until Monday. Perhaps it will remain one of those unsolved soccer mysteries.
What's known for now is this: Donovan and Michael Bradley scored second-half goals that did count, and U.S. hopes to reach the second round remained alive with a 2-2 tie Friday.
And for one moment, Edu felt "pure excitement."
It did not last.
Now it comes down to Wednesday's match against Algeria.
"My guess is there's not many teams in this tournament that could have done what we did and arguably won the game. And that is what the American spirit is about," Donovan said. "And I'm sure people back home are proud of that."
Slovenia (1-0-1) leads Group C with four points and would have qualified for the second round with a win. The U.S. and England (both 0-0-2) are tied for second with two points each following England's 0-0 draw with Algeria (0-1-1).
The top two teams in the group advance, so the U.S. would make the second round with a victory against Algeria. The Americans also could advance if they tie the Algerians while England draws Slovenia, provided the U.S. maintains its advantage in goals scored over the English, currently 3-1.
Copyright 2018 The Associated Press. All rights reserved. This material may not be published, broadcast, rewritten or redistributed. We strive to uphold our values for every story published.