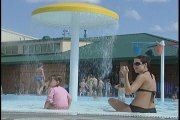 For the first time since its opening three years ago, the entire pool at the Eudora's Aquatic Center is fully functional and meets safety standards.
The Lazy River and water slide were closed last year because a drain was installed incorrectly when the pool was opened in the summer of 2007. The grates that cover the pool's drains didn't meet federal specifications, which led to a $3,500 fix for the city.
"We had to go in and put vortexes in our pipes, we had to follow the grates. You had to be at least 3 feet apart on your grate system and the slide, and the Lazy River didn't meet those specifications," said Tammy Hodges, the Parks and Recreation director in Eudora.
The reopening of the pool features has drawn increased crowds to the pool this year.
"It's much better," said Julie Hammes, who brings her 2-year-old daughter to the pool daily. "She's got more things to do with the slide. We've got the little umbrella pouring on her; she loves all of that."
Eudora's Aquatic Center is open from 1 p.m. to 7 p.m. daily.
Copyright 2018 The Lawrence Journal-World. All rights reserved. This material may not be published, broadcast, rewritten or redistributed. We strive to uphold our values for every story published.