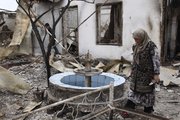 Osh, Kyrgyzstan — An estimated 400,000 people — nearly one-twelfth the population — have fled their homes to escape Kyrgyzstan's ethnic violence, the U.N. said Thursday as throngs of refugees huddled in grim camps along the Uzbekistan border without adequate food or water.
That figure represents half the roughly 800,000 ethnic Uzbeks who lived in Kyrgyzstan's south before Central Asia's worst ethnic violence in decades erupted there last week. More than 200 people — possibly many more — have been killed, and Uzbeks have been all but purged from some parts of the south.
Ethnic Uzbeks on Thursday accused security forces of standing by or even helping ethnic-majority Kyrgyz mobs as they slaughtered people and burned down neighborhoods. Col. Iskander Ikramov, the chief of the Kyrgyz military in the south, rejected allegations of troop involvement in the riots but said the army didn't interfere because it was not supposed to act as a police force.
The military and police set up roadblocks and began patrols this week after the worst violence was over.
Uzbeks interviewed by Associated Press journalists in Osh, the country's second-largest city, said that on one street alone, ethnic Kyrgyz men sexually assaulted and beat more than 10 Uzbek women and girls, including some pregnant women and children as young as 12.
Matlyuba Akramova showed journalists a 16-year-old relative who appeared to be in a state of shock, and said she had been hiding in the attic as Kyrgyz mobs beat her father in their home in the Cheryomushki neighborhood. Akramova said that when the girl came downstairs to bandage her father's head, another group of attackers sexually assaulted her in front of him.
"What they did to her — even animals wouldn't do that," Akramova said.
Human Rights Watch researcher Anna Neistat, who is investigating the violence in Osh, said it was difficult to say how many rapes occurred. "I just documented at least one case where I spoke to the woman who was raped," she said. "There are several other women in the very same location, so by now I can say with confidence that cases like this did happen. The question is the scale."
Members of the Kyrgyz community have denied accusations of brutality and have accused Uzbeks of raping Kyrgyz women. Eyewitnesses and experts say many Kyrgyz were killed in the unrest, but most victims appear to have been Uzbeks, traditional farmers and traders who speak a different Turkic language and have been more prosperous than the Kyrgyz.
Odinama Matkadyrovna, an Uzbek doctor in Osh, said there were probably more rapes than have been reported, but many victims were reluctant to speak out about their experience.
U.N. Humanitarian Office spokeswoman Elisabeth Byrs said an estimated 400,000 people have been driven from their homes. About 100,000 refugees are in neighboring Uzbekistan.
Copyright 2018 The Associated Press. All rights reserved. This material may not be published, broadcast, rewritten or redistributed. We strive to uphold our values for every story published.