Salt Lake City — Utah's road to the BCS just became a lot less complicated.
As the newest member of the Pac-10, the Utes will be playing for a guaranteed spot in one of college football's elite bowl games rather than hoping to sneak in with an at-large berth — as they've done twice before.
Utah officially joined the Pac-10 on Thursday, leaving the Mountain West Conference for the prestige and more lucrative opportunities of a league where things such as the Heisman Trophy, Final Four and national titles are distinct possibilities instead of long shots.
"Today is an absolutely great day to be a Ute," athletic director Chris Hill said Thursday before he was interrupted by applause during a news conference.
The Pac-10 invited Utah to join the league on Wednesday, and university President Michael Young officially signed on in front of a crowd of elated boosters a day later.
After playing one final season in the Mountain West this fall, Utah will join the Pac-10 — or whatever the expanded league's name will become — in 2011. There is a guaranteed BCS spot for the Pac-10 winner, but that will mean getting through a schedule of one of college football's most prominent conferences.
"We don't have limits right now, so we can take a full swing," Hill said after the news conference. "That's what's great about this opportunity for us. We can go for it."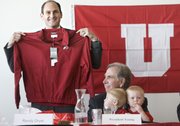 Pro Football
Seahawks sign pair of draft picks
Renton, Wash. — The Seattle Seahawks have signed fourth-round draft choices Walter Thurmond and E.J. Wilson to four-year contracts.
Seattle has signed five of its nine choices from April's draft.
Broncos sign 3rd-round lineman
Englewood, Colo. — The Denver Broncos have signed offensive lineman J.D. Walton, a third-round pick out of Baylor.
The team also released defensive lineman Jaron Baston on Thursday and designated fullback Kyle Eckel as waived/injured.
Pro Basketball
76ers trade Dalembert to Kings
Philadelphia — The Samuel Dalembert era of the 76ers is over.
It ended when the Sixers traded the 6-foot-11 former first-round pick to the Sacramento Kings for Andres Nocioni and Spencer Hawes, pending physicals.
"We are excited to add two players in Spencer Hawes and Andres Nocioni, who will help us immediately and provide us with additional frontcourt depth," general manager Ed Stefanski said in a statement Thursday announcing the deal. "Spencer is a young 7-footer who will provide us with versatility at the center position, while Andres will provide us with a tough veteran presence."
James honored by hometown
Akron, Ohio — LeBron James' hometown is throwing him a big party. Nobody knows if it's a farewell bash yet — or if he's even coming.
James' contributions to Akron will be celebrated on Saturday at "LeBron Appreciation Day," an event organized by community leaders to show the local superstar how much he is loved as he approaches NBA free agency on July 1.
Organizers said James is aware of the event, but don't know if he'll attend. A message seeking comment about a possible appearance by James was left with his publicist.
The three-hour rally will be held at InfoCision Stadium on the University of Akron's campus, across from Rhodes Arena, where James played as a high school star and where he accepted his second straight MVP award last month.
Tennis
Karlovic withdraws from Wimbledon
Wimbledon, England — Ivo Karlovic has withdrawn from Wimbledon due to a foot injury.
The big-serving Croatian, who reached the quarterfinals last year, had been seeded No. 25 for the Grand Slam tournament beginning Monday. With his withdrawal Thursday, Romania's Victor Hanescu was elevated one spot into the seedings at No. 32.
Baseball
Pirates extend contracts
Pittsburgh — The Pittsburgh Pirates extended the contracts of manager John Russell and general manager Neal Huntington for the 2011 season without making a public announcement during the offseason.
The Pirates were coming off a 99-loss season in 2009 and, amid slumping ticket sales, apparently felt announcing the winter deals might further lessen enthusiasm for this season. Huntington was given a one-year extension through 2011, and the club picked up Russell's option.
Pirates president Frank Coonelly acknowledged the moves Thursday, after a
FoxSports.com report that Huntington's contract had been extended.
Softball
Iowa coach retires after 31 years
Iowa City, Iowa — Iowa coach Gayle Blevins, the second-winningest softball coach in NCAA Div. I history, is calling it quits after 31 seasons.
Iowa athletic director Gary Barta announced Blevins' retirement Thursday. Blevins spent the last 23 season at Iowa after eight years with Indiana. She leaves the game with a record of 1,245-588-5.
Blevins led the Hawkeyes to 16 NCAA Tournaments and four Women's College World Series appearances. Blevins never had a losing season at Iowa or Indiana and was a three-time Big Ten Coach of the Year with the Hawkeyes.
Copyright 2018 The Lawrence Journal-World. All rights reserved. This material may not be published, broadcast, rewritten or redistributed. We strive to uphold our values for every story published.