Pebble Beach, Calif — The scenery at Pebble Beach was as spectacular as ever. The U.S. Open was as tough as ever.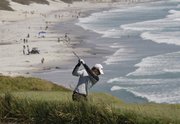 Tiger Woods and Phil Mickelson didn't make a single birdie between them Thursday, the first time that's ever happened with the world's best two players in the same tournament. Some of the strongest rounds, and sometimes the best shots, didn't hold up on a course that played like a beast, even if it didn't look like one.
Shaun Micheel took only 22 putts, the last one from 20 feet for birdie on the 18th hole and a 2-under 69 that put him atop the leaderboard with Paul Casey and Brendon De Jonge.
One thing seemed as clear as the blue sky over the Monterey Peninsula: That 12-under par by Woods a decade ago is safe. If one round was any indication, anything under par might be good enough to win this U.S. Open.
"I'm not thinking about what kind of score might win this golf tournament," Ian Poulter said after a hard-earned 70. "I'm just happy to go out there and play as good as I possibly can. But I will tell you, the golf course is difficult. There's not going to be many good scores on it today. And I can't see it getting easier."
De Jonge, a 29-year-old from Zimbabwe playing in his first U.S. Open, holed out with a wedge for eagle on the scary par-5 14th and hit it stiff on the par-3 17th for his round of 69. Casey got away with average iron play by taking only 23 putts.
Only nine players were under par, compared with 17 rounds under par after the first round at Pebble in 2000.
The biggest difference was Woods.
He hit every green in opening with eight pars — extending his streak to 34 holes without a bogey in a U.S. Open at Pebble Beach — but never gave himself many good looks at birdie. His day ended badly, with a three-putt bogey from the fringe on the 16th, missing an eight-foot birdie on the 17th and laying up in a bunker to take bogey on the 18th for a 3-over 74.
"I hit the ball well enough to shoot a good score," Woods said. "These greens are just awful. They're moving every which way."
Woods never had that problem 10 years ago, making everything inside eight feet. He is a different player now, playing this U.S. Open under far different circumstances with the turmoil in his personal life. And this golf course has rarely looked so tough in relatively calm conditions.
Mickelson, already with a record five runner-up finishes in this major, hit two balls in the ocean, took two shots to get out of one bunker and missed a half-dozen birdie putts inside 12 feet in his birdie-free round of 75.
It was his highest opening round in the U.S. Open since 1997, though he was not entirely discouraged.
"There's no way under par is going to win here, I don't believe," Mickelson said. "I think over par will win. Because of that, I'm right there. But I need to play well. I need to putt well, score well. I've just got to get sharp on the greens."
Copyright 2018 The Associated Press. All rights reserved. This material may not be published, broadcast, rewritten or redistributed. We strive to uphold our values for every story published.