Los Angeles — Purple and gold confetti raining down upon him, Kobe Bryant hopped up on the scorer's table, shook his fists and extended five fingers.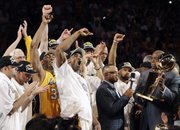 When he hopped down, Boston's legendary Hall of Fame center Bill Russell was waiting to shake his hand.
A Game 7 classic — and this time, it finally went the Lakers' way.
Beating Boston for the first time in a Game 7, the Lakers came up champions again after trailing in the last quarter of the last game of their season.
Kobe Bryant, the finals MVP, scored 23 points despite 6-of-24 shooting, and the Lakers won their 16th NBA championship Thursday night, dramatically rallying to beat the Boston Celtics, 83-79, in Game 7 of the NBA finals.
Bryant earned his fifth title with the Lakers, who repeated as NBA champions for the first time since winning three straight from 2000-02.
"This one is by far the sweetest, because it's them," Bryant said. "This was the hardest one by far. I wanted it so bad, and sometimes when you want it so bad, it slips away from you. My guys picked me up."
Ron Artest added 20 points for the Lakers, who didn't show a champion's poise while making just 21 shots in the first three quarters, even hovering around 50 percent at the free-throw line. Yet with Bryant driving the lane and Pau Gasol finally coming alive with nine of his 19 points in the fourth quarter, Los Angeles reclaimed the lead midway through the fourth quarter and hung on with a few more big shots from Gasol, who had 18 rebounds, and Artest, a first-time champion as the only newcomer to last season's roster.
"Well, first of all I want to thank everybody in my 'hood," Artest said. "I definitely want to thank my doctors ... my psychiatrist, she really helped me relax a lot."
With their fifth title in 11 seasons, the Lakers moved one championship behind Boston's 17 banners for the overall NBA lead.
Amid the confetti and streamers after the final buzzer, Magic Johnson rushed the court to congratulate Bryant, who now has the same number of titles, and to hug Artest, the only new addition to the Lakers' championship roster from last season. Artest has been a liability for much of the postseason, but the former head case came up with a remarkable game on the Lakers' biggest night, playing sturdy defense along with his scoring.
Paul Pierce had 18 points and 10 rebounds for the Celtics, who just couldn't finish the final quarter of a remarkable playoff run after a fourth-place finish in the Eastern Conference. Kevin Garnett added 17 points, but Boston flopped in two chances to clinch the series in Los Angeles after winning Game 5 back home.
"Listen, give the Lakers credit," Celtics coach Doc Rivers said. "They were terrific."
Rivers knows changes are coming, even saying afterward that the '10-11 Celtics will be different than the '09-10 team.
"We were the tightest, most emotional, crazy group I've ever been around in my life," Rivers said, adding that he'll wait awhile before deciding on his oft-speculated future.
He called this team "crazy close," and throughout the playoffs, the Celtics only got closer. Down by 14 in their first playoff game against Miami, they won that night and rode that instant burst of confidence not only past the Heat, but through Cleveland and Orlando in the next two rounds.
The Celtics were a .500 team for the final two-thirds of the season, prompting many to wonder if they could turn it back on for the playoffs.
That question was answered long ago. Yes, they could — and one or two more stops Thursday, they'd have won an 18th title.
"There's a lot of crying in that locker room," Rivers said. "A lot of people who care. I don't think there was a dry eye. A lot of hugs, a lot of people feeling awful. That's a good thing. Showed a lot of people cared."
After three quarters of mostly terrible offense, the Lakers tied it at 61 on Artest's three-point play with 7:29 left. Bryant's free throws 90 seconds later gave the Lakers their first lead of the second half, and the Lakers went up by five points before Bryant and Sasha Vujacic hit free throws in the final seconds to keep Los Angeles ahead.
Bryant said he had to downplay the magnitude of the rivalry during the series, but it was a gigantic part of his motivation for this title, without question.
Because it was Lakers-Celtics, the best rivalry in league history.
And because it was against the team that denied him a title in 2008, the Celtics then blowing out the Lakers in Boston in Game 6 two years ago for their 17th championship.
That loss drove Bryant all last season and drove him again Thursday night.
Copyright 2017 The Associated Press. All rights reserved. This material may not be published, broadcast, rewritten or redistributed. We strive to uphold our values for every story published.