A man accused in the attack of a young woman on a Lawrence bike path made his first appearance before a Douglas County judge Friday afternoon.
William E. Nichols, 30, Lawrence, is charged with aggravated kidnapping, attempted rape and aggravated battery in connection with the Wednesday afternoon attack on a 23-year-old woman on the South Lawrence Trafficway bike path.
Douglas County District Attorney Charles Branson said the charges were the most severe he could file in the case, with aggravated kidnapping carrying a maximum sentence of more than 50 years in prison, depending on a defendant's criminal record.
Lawrence police officers captured Nichols after a brief manhunt Wednesday near the scene of the incident between the Youth Sports Complex and the Clinton Lake dam.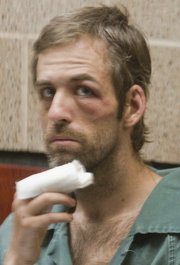 Prosecutors believe he grabbed the woman off her bicycle with the intent to rape her. During the course of the attack, the victim was stabbed multiple times. Two teenagers who were running on the path intervened to stop the attack.
Douglas County District Attorney Charles Branson asked the judge to set Nichols' bond at $500,000, given the severity of the crime and what Branson called "the utter randomness" of the attack.
"The sheer randomness of this crime deserves a high bond," Branson said after the hearing. "This is a stranger crime, a crime committed at random in broad daylight. We believe the public is at risk if this person is out and about."
Branson also expects more charges could be filed in the case, after police discovered that Nichols matches the description of a man who groped two women, also in their 20s, in separate incidents since April 15.
"I anticipate that based on their preliminary investigation and what they've informed me, that there is the potential for additional charges," Branson said.
Judge Peggy Kittel followed the district attorney's recommendation, setting Nichols' bond at $500,000 and ordering the suspect to have no contact with any witnesses in the case.
Nichols said little during the hearing, other than that he has a daughter he supports and held down a job up until he was arrested for this crime.
The judge appointed defense attorney Michael Clarke to represent Nichols and ordered that he appear back in court Tuesday morning with his attorney.
Copyright 2018 The Lawrence Journal-World. All rights reserved. This material may not be published, broadcast, rewritten or redistributed. We strive to uphold our values for every story published.