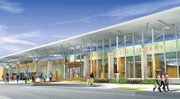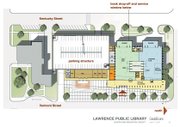 Leaders of the Lawrence Public Library on Thursday found out just what $18 million will buy them when it comes to a downtown expansion.
Soon enough, they may find out whether the public will buy it.
-->
The Lawrence-based architectural firm Gould Evans told library board members that $18 million will cover a 20,000-square-foot expansion, allow parking to double, and leave enough funds for the entire library to be renovated.
"This is a real opportunity to create a signature public building for the community," said City Commissioner Aron Cromwell, who serves as a liaison to the library board. "And we can do it while doubling the amount of parking in this area of downtown."
Now, it is just up to city commissioners and voters to sign off on the proposal. The library board estimates the city's mill levy would need to increase by 1.5 mills for 20 years to pay off new bonds that would have to be issued for the project. Library leaders also believe an additional 0.5 mill is necessary to fund increased operational costs of a larger library.
City commissioners are scheduled to hear the proposal at a study session next Thursday. If commissioners like the proposal, they will vote in early July to put the plan on the November ballot. Because of its size, commissioners have decided the project must be presented directly to voters.
Among the specific features included in the library expansion plan presented Thursday:
• The library would grow to about 66,500 square feet, and all areas would be upgraded. The existing library would be extended about 30 feet closer to Vermont Street. New space also would stretch south down Vermont into parts of the existing parking lot.
• The children's area of the library would double in size, and would include a separate space for young adults.
• A three-level parking garage — larger than originally envisioned — would be built on a portion of the current parking lot. The garage would have 250 spaces, up from 125 today. Parking would account for about $4.3 million of the project's costs.
• Meeting space in the library would double, and would be arranged to allow for up to nine separate meeting rooms and six reading rooms.
• A drive-through book drop-off and service window would be added to the west side of the library.
• The reconfigured library would have room for 100 additional public access computers.
"The library really will become much more of a destination," said Mike Machell, chairman of the library's board.
This is the second recent effort by leaders to increase the library's presence in the community. During 2006, the library board — after debating several downtown sites — recommended a $30 million project that would have built a new 94,000-square-foot library with 260 underground parking spaces at the site of the downtown post office. But that project never won city commissioners' support.
Despite this proposal being smaller in square footage, Cromwell said the expansion will serve the library's needs for years to come, and expansions further down the line likely would be satellite locations.

"I think we really will get all that we would have gotten before, and we have a much more attractive price tag," Cromwell said.
Copyright 2018 The Lawrence Journal-World. All rights reserved. This material may not be published, broadcast, rewritten or redistributed. We strive to uphold our values for every story published.