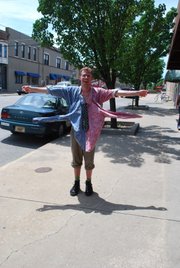 Age: 23.

Sign: Aries.
Occupation: Liberal artist.
How long have you been in Lawrence? Four years.
What were you doing when scouted? Reading outside.
How would you describe your style? I want to have fun with my clothing and have a story to tell.
What are your favorite fashion trends? Timeless trends — trends that transcend being trendy.
What are your least favorite fashion trends? Trends that don't celebrate positive body image.
What would you like to see more of in Lawrence? People having fun with their clothes and what they wear, whatever that means for each individual.
What would you like to see less of in Lawrence? Clothes that people have slept in, the casual American wardrobe and sweatsuits — it's just kind of rude.
Do you have any fashion influences? Japanese fashion label Comme des Garcons and musician Björk.
People say I look like: You know, I have a very familiar face, so I get all sorts of people saying that they swear I am someone that they know.
Tell us a secret: My secret to unconditional joy is that being alive is a blessing.
Glasses: Zoff in Japan, 2008, $58.
Shirts: Jones Store, 2004, $20.
Pants: Express, 2009, gift.
Socks: H&M; in Paris, 2007, gift.
Shoes: Louis Vuitton, 2007, gift.
Necktie: Nightmare Before Christmas, 2008, gift.
Copyright 2017 The Lawrence Journal-World. All rights reserved. This material may not be published, broadcast, rewritten or redistributed. We strive to uphold our values for every story published.