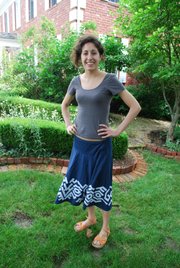 Age: 23.

Sign: Libra.
Occupation: Student.
How long have you been in Lawrence? I grew up in Lawrence, and I recently moved back home.
What were you doing when scouted? Bringing my new puppy, Collin, home from the Humane Society.
How would you describe your style? Closet swapping with sister and always varying.
What are your favorite fashion trends? Comfortable and functional clothing ... and guilt-free eco/environmental trends. It's nice to aim toward becoming a more responsible consumer, and it's really nice to buy used and to know that you are not directly supporting a company that profits from mistreating workers or products that are damaging to the environment.
What are your least favorite fashion trends? You know, I used to hate Jeggings — those jean/leggings, but then I grew to like them secretly. I guess each to his or her own.
What would you like to see more of in Lawrence? Those Cookie Monster T-shirts …
What would you like to see less of in Lawrence? Fashion rivalry. I'm not even sure that exists, but if it does, I say no to that.
Do you have any fashion influences? Global fashion, green fashion designers and my friends.
People say I look like: A good old friend, cousin or aunt. Usually I hear things like that in restaurants and around town.
Tell us a secret: I have a pair of webbed toes!
Shirt: Old Navy, 2010, $10.
Skirt: Thrifted Michael Kors, 2009, $15.
Shoes: Earth, 2009, $90.
Copyright 2018 The Lawrence Journal-World. All rights reserved. This material may not be published, broadcast, rewritten or redistributed. We strive to uphold our values for every story published.