It appears as if 10 is the magic number for the Big 12 Conference.
After a wild fiasco involving eight conferences and nearly 100 universities, we learned earlier this week that the 15-year-old Big 12 Conference would live on, moving forward with 10 members.
Photo Gallery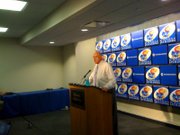 Lew Perkins press conference, June 16, 2010
Kansas Athletic Director Lew Perkins discussed the Big 12 Conference realignment Wednesday, June 16, 2010 at Allen Fieldhouse.
Wednesday, when Kansas University athletic director Lew Perkins made his first public comments since the Big 12's survival became official, Perkins said that the 10 members of the new-look conference have signed an agreement to stay together for at least 10 years.
"If some other things happen, that could be longer," Perkins said, stopping short of providing the details. "I have no reason, none whatsoever, to have any fear that somebody's gonna bolt on me. All indications are that we're in here for the long haul."
Now the fun can begin. And by fun, we're talking scheduling, rearranging the structure of the league's government, reorganizing each sport's championships and figuring out what to call the new league — if the name changes at all.
"Someone called me the other night and said, 'It's done,'" Perkins said. "I told 'em, 'No, it's just beginning.' It's basically like starting a new conference. This is just Lew talking, but it's going to take a year to put all this back together because we're starting at zero."
The one thing the 10 remaining members will have on their side appears to be money. In addition to withholdings from Nebraska and Colorado — Perkins refused to call them penalties, instead referring to them as "liquidating damages" — the league appears to be on the verge of a serious increase in television revenue.
Perkins helped clear up the way in which the money would be divided. For starters, he said the league had nothing planned for the liquidating damages, which reportedly could be up to $20 million.
"This penalty stuff doesn't fit," he said. "We're not into penalties because we don't know if we'll get it or not."
In addition, he outlined precisely the manner in which Oklahoma, Texas and Texas A&M; would be compensated for their loyalty.
In summarizing, Perkins said the rest of the league basically told UT, OU and A&M;, "If you stay with us, the worst that could happen is you're going to make that number (that you were promised by the other leagues)."
Perkins pointed out on more than one occasion that officials from Texas, including UT athletic director DeLoss Dodds, have indicated that they don't think it will come to that. In the new landscape, the belief is that Texas will meet or exceed the revenue it would've received elsewhere, specifically the Pac-10.
Perkins also praised the work of several partners, including Kansas State University, KU Chancellor Bernadette Gray-Little, the Kansas Board of Regents, several Kansas political figures and the league's commissioner.
"Dan Beebe has been chastised up, down, sideways, (and) I think he's been blamed for everything in the United States," Perkins said. "But he and his staff, you will never know what an incredible job they did. What he and his staff did in pulling this thing together might have saved intercollegiate athletics as we see it today."
Copyright 2018 The Lawrence Journal-World. All rights reserved. This material may not be published, broadcast, rewritten or redistributed. We strive to uphold our values for every story published.