Osh, Kyrgyzstan — The U.N. has found evidence of bloody intent behind the chaos in Kyrgyzstan that killed hundreds, left the nation's second-biggest city a smoldering ruin and sent more than 100,000 ethnic Uzbeks fleeing.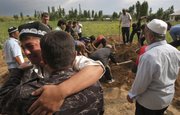 The declaration by the U.N. that the fighting was "orchestrated, targeted and well-planned" — set off by organized groups of gunmen in ski masks — bolsters government claims that hired attackers marauded through Osh, shooting at both Kyrgyz and Uzbeks to inflame old tensions.
Kyrgyzstan's interim leaders have blamed the former president's inner circle for igniting the unrest — the worst ethnic violence to hit Central Asia in 20 years. The bloodshed has eroded the provisional government's grip on power and threatens a crucial referendum planned for later this month.
At a hospital near Osh on Tuesday, dozens of wounded Uzbeks lay in corridors and on broken beds, and many said the rampages were premeditated.
"Well-armed people who were obviously well prepared for this conflict were shooting at us," said Teymurat Yuldashev, 26, who had bullet wounds of different caliber in his arm and chest. "They were organized, with weapons, militants and snipers. They simply destroyed us."
Over 100,000 Uzbeks have fled for their lives to neighboring Uzbekistan, and tens of thousands more, most of them women and children, were camped on the Kyrgyz side or stranded behind barbed-wire fences in a no man's land.
The International Committee of the Red Cross had no precise figure of the dead, but spokesman Christian Cardon said "we are talking about several hundred."
Kyrgyzstan's interim President Roza Otunbayeva also said the real toll was likely "several times higher" than the official count of 179 people killed, because many victims were quickly buried by their relatives in keeping with Muslim tradition. Nearly 1,900 have been wounded, the Health Ministry said.
Otunbayeva said she talked again with Russian President Dmitry Medvedev about sending in troops, a move Moscow had refused over the weekend. Both the U.S. and Moscow have air bases in the strategically located nation, but they are in the north, far from the rioting.
Otunbayeva's government, which took over when former President Kurmanbek Bakiyev was ousted in an April uprising, has claimed that Bakiyev's family instigated the violence to halt a June 27 referendum on a new constitution. The provisional authorities need the vote to gain legitimacy and lay the groundwork for parliamentary elections scheduled for October.
The fertile Ferghana Valley was arbitrarily split between Uzbekistan, Kyrgyzstan and Tajikistan by Soviet dictator Josef Stalin, a situation that has fomented ethnic tensions for decades. In 1990, hundreds were killed in a land dispute between Kyrgyz and Uzbeks in Osh, and only the Soviet army deployment quelled the fighting.
Uzbeks generally have been better off economically and owned many stores and cafes in Osh and other southern cities, making them enviable targets for mobs of young jobless Kyrgyz men. Most Uzbeks also backed the interim government, hoping to win more political rights, while many Kyrgyz in the south have supported Bakiyev and worried that their interests would suffer under the new leadership.
U.N. High Commissioner for Human Rights Navi Pillay said the fighting appeared to be "orchestrated, targeted and well-planned," and she urged authorities to act before it spread.
Pillay's spokesman, Rupert Colville, told reporters in Geneva on Tuesday there was evidence the violence began with five simultaneous attacks last week by men wearing ski masks.
Kyrgyzstan's deputy security chief, Kubat Baibolov, said people close to Bakiyev's family hired gunmen from neighboring Tajikistan, who drove around Osh in cars with tinted windows opening fire on both Uzbeks and Kyrgyz to inflame tensions. Some of the suspected gunmen have been detained and told authorities they were hired by Bakiyev supporters to start the deadly rampages, he said.
From self-imposed exile in Belarus, Bakiyev has denied any ties to the violence, but Otunbayeva insisted Tuesday his supporters had stoked the conflict.
"Many instigators have been detained and they are giving evidence on Bakiyev's involvement in the events. No one has doubts that he is involved," she said.
The region around Osh, a city of 250,000, is a top conduit for heroin flowing out of Afghanistan, and thus a hotbed for gangs and guns. Some observers said the violence could have been rooted in the fight for control over drug trafficking.
Copyright 2018 The Associated Press. All rights reserved. This material may not be published, broadcast, rewritten or redistributed. We strive to uphold our values for every story published.