Photo Gallery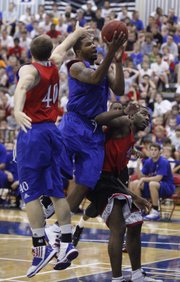 Bill Self camp alumni scrimmage
Current Kansas basketball players scrimmaged against former players for the Bill Self's basketball camp's alumni game.
4:55 p.m.
Here are some general observations following the second camp game. Take these observations for what they're worth, as this is just one exhibition scrimmage months before practices even begin.
• Royce Woolridge and Conner Teahan were the two most impressive current players from my viewpoint. Woolridge made the most of extremely limited minutes, scoring seven points in a variety of fashions. Afterwards, he said he was trying to add some bulk and work on his passing, perhaps so he could comfortably slide into a point-guard role at some point in the future.
Teahan, meanwhile, was this week's hot shooter, as he drained three three-pointers and looked comfortable firing from deep.
• Strong effort from Jeff Withey, who had two solid blocks on Christian Moody inside. Withey also added eight points and used his size and good positioning to grab numerous rebounds.
• After a dazzling first camp game last week, Tyshawn Taylor was quiet with just five points. He was matched up against Chalmers most of the game, which could explain some of the lower offensive numbers. Taylor was competitive, though, as the matchup of him against Chalmers was probably the most chippy one-on-one battle of the day.
• Marcus Morris was his steady self, scoring a quiet 11 points to tie for the team lead in scoring.
• Travis Releford scored just three points, but I was impressed with his ability to move his feet defensively. A couple times, he was quick enough to stop Langford's drives — something few players were able to do in college.
• Thomas Robinson was active in the paint, grabbing many loose balls and scoring eight points. He still looks like he could use some polish offensively, as his leaning shots weren't graceful and might have been blocked by taller opponents.
• Elijah Johnson scoring nine points off three three-pointers has to be a confidence boost for him. It's hard to know what we should expect from the sophomore after his playing time was limited late last sesaon.
Here is the official scoring from the game:
Blue — Teahan 11, Marcus Morris 11, Markieff Morris 9, Robinson 8, Johnson 9, Withey 8, Taylor 5, Releford 3, C.J. Henry 2.
Red — Chalmers 15, Langford 9, Moody 9, Woolridge 7, Hawkins 3, Justin Wesley 2.
Note — Blue team's score is off by one point.
FINAL: Blue team defeats Red, 65-45
Withey puts in the final two Blue buckets, including a stuff to end it, as the current Jayhawks finished off an easy victory over the alums.
Here are the leading scorers:
Red
Chalmers 15
Langford 9
Blue
Marcus Morris 11
Conner Teahan 11
Blue 56/Red 40
Withey blocks Moody for the second time, and it leads to a run-out, as Marcus puts in an alley-oop.
Teahan continues his hot streak, as he puts in another three. That's his third today.
Blue 50/Red 40
Nice no-look pass from Little under the basket, feeding Markieff for a dunk.
Elijah Johnson follows with his second three, then he banks in his third. He might have even been fouled on his final attempt.
Blue 42/Red 36
Thomas Robinson grabs an offensive rebound. Though it's not usually pretty with him, he somehow gets his leaner in the lane to roll in.
Mario Little misses an NBA range three, and he hasn't been impressive today. He's now 0-for-4 from the floor.
Blue 38/Red 27
Releford gets ahead of the pack in transition, and he throws down a two-handed slam.
Jeff Hawkins throws in a long thee, and he's not too old to give a little friendly smack talk.
Blue 36/Red 24 — Halftime
At halftime, here are the leading scorers:
Blue
Conner Teahan 8
Markieff Morris 7
Red
Keith Langford 7
Royce Woolridge 7
Blue 33/Red 24
Aaron Miles has come off the bench for the Red squad, but he is yet to score.
Blue 27/Red 18
Jeff Withey grabs an offensive rebound, and he follows with a short jump-hook.
The MVP of the game so far, though, has been the Red team's Royce Woolridge. He finished a tough drive, taking on contact before putting in a two. He then launched in a three and finished a between-the-legs dribble drive with a two. That's seven points for him in the span of a couple minutes.
Blue 12/Red 9
Nice defense from Travis Releford, who didn't allow the always-elusive Langford to shake by him. Langford instead settles for a three that bounces away.
Chalmers follows with a long three.
Blue 10/Red 4
Tyshawn Taylor steals the ball from Chalmers up top, and he takes it the other way for an emphatic slam.
Chalmers shakes his right hand, perhaps trying to indicate that he thought he was fouled.
Red 4/Blue 3
Langford opens the scoring with a long two.
Impressive start by Markieff Morris, who has grabbed three offensive rebounds to go with a three-pointer.
3:39 p.m.
Royce Woolridge and Niko Roberts also will be on the Red squad.
We're underway.
3:35 p.m.
Like last week, the first team to 65 wins, playing by twos and threes.
The campers are chanting, "Mar-i-o! Mar-i-o!"
Looks like Langford, Chalmers and Moody will be the alums that will play today.
3:30 p.m.
My best guess is that Conner Teahan, Mario Little, Markieff Morris and Tyshawn Taylor will join the KU alumni on the Red squad. Looks like all the other current Jayhawks will be on the Blue squad.
Also, Aaron Miles is here but will not play.
3:25 p.m.
It looks like the alumni team will have a few more players this week, as Keith Langford, Christian Moody, Jeff Hawkins and Mario Chalmers are all on the court. We'll see if all of them play.
3:20 p.m.
Welcome back to the Newell Post Live, coming to you from the Horejsi Center on the Kansas University campus where the KU men's basketball team is getting set for its second summer camp game.
Last week's game was an especially physical battle, as a few Jayhawks were taken off the court after sustaining injuries. Though none of the injuries turned out to be too serious, one has to wonder whether the guys will be just as intense when they scrimmage today.
The guys are getting set to warm up, so I'll update with lineups here soon.
Copyright 2018 The Lawrence Journal-World. All rights reserved. This material may not be published, broadcast, rewritten or redistributed. We strive to uphold our values for every story published.