Photo Gallery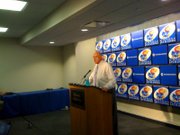 Lew Perkins press conference, June 16, 2010
Kansas Athletic Director Lew Perkins discussed the Big 12 Conference realignment Wednesday, June 16, 2010 at Allen Fieldhouse.
Just as he insisted before the realignment mess exploded, Kansas University Athletics Director Lew Perkins still believes that the Big 12 Conference is the best place for KU.
"I am unbelievably, unbelievably happy that we were able to stay together," he said.
That was the theme of a 35-minute news conference at Allen Fieldhouse on Wednesday, in which Perkins fielded questions from media members about the survival of the Big 12 and where the conference would go from here.
Though he was limited in what he could say, largely because the league still has so many specifics to work out, Perkins painted a picture of a united group of 10 schools excited about moving forward into what all of those involved believe will be a more profitable future.
What's more, Perkins said the Big 12's survival may have saved college athletics as we know it.
"This, in my opinion, is one of the great things that has happened to intercollegiate athletics in a long, long time," Perkins said.
Perkins thanked several people during his first public comments since the news broke on Monday. Among them: KU Chancellor Bernadette Gray-Little, whom he called a "rock star;" several Kansas politicians; Big 12 Commissioner Dan Beebe; the Kansas Board of Regents and the nine other schools who helped make the favorable conclusion possible.
Ultimately, Perkins reminded everyone whom all 10 schools were thinking about throughout the entire process.
"It's about the student-athletes," he said. "The hard work that everybody put into the talks was for the benefit of our coaches, our student-athletes, the fans and the state of Kansas."
On Wednesday, Perkins would only address questions centering on the conference. But a KU Athletics ticket scandal will be the topic of discussion during next Thursday's Kansas Board of Regents meeting in Topeka. After KU released the results of an independent investigation into its ticket operation, regents made clear that they expected KU Chancellor Bernadette Gray-Little to respond to the report and its implications, as well as detail her plan to restore the trust that was damaged by the ticket scandal.
Copyright 2018 The Lawrence Journal-World. All rights reserved. This material may not be published, broadcast, rewritten or redistributed. We strive to uphold our values for every story published.