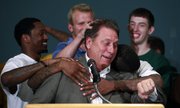 East Lansing, Mich. — Tom Izzo resisted the temptation of possibly coaching LeBron James to focus instead on a sure thing — building the next generation of superstars at Michigan State.
"Instead of coaching them in the NBA, I'm going to coach them in the NCAA," Izzo said Tuesday night at a news conference after he turned down a chance to coach the Cleveland Cavaliers.
Izzo rejected the NBA in part because he was unable to speak with James, though he did speak with people in his camp.
"That was one of the key factors, 100 percent true," Izzo said. "That was not the only factor. Was it a big factor? Sure."
James' uncertain future will make for a difficult decision for any prospective Cavs coach. He is unlikely to tip his hand publicly before free agency begins July 1.
College Athletics
Utah not contacted by Pac-10
Half Moon Bay, Calif. — Mountain West Conference commissioner Craig Thompson says he was told Monday by Utah's athletic director that the university had not been contacted by the Pac-10.
Thompson was attending a meeting of conference commissioners in northern California on Tuesday. Pac-10 commissioner Larry Scott was not in attendance.
Thompson says Scott has not contacted him since the Pac-10's invitation to Texas was declined Monday.
Utah has been speculated as being the Pac-10's next target.
Carroll: NCAA off base about USC
Renton, Wash. — Days after the NCAA trampled his former Southern California Trojans, coach Pete Carroll's mindset remains the same from afar.
Fight on!
Carroll says the NCAA had no basis for unfair and "really, really harsh" sanctions on USC.
"There's nothing there," he said Tuesday of the investigation into his program's knowledge of former Trojans running back Reggie Bush's improper benefits and relationship with an agent.
"Now the word's out. You can do this," he said. "One person can do this, go after a university and a kid. And nothing has to be true. NOTHING has to be true. They just have to make claims, and then the investigations and all that are under way.
"I just hate the thought that that can take place and we can do nothing about it."
Carroll says he didn't leave USC six months ago to escape imminent NCAA penalties.
"Why wouldn't I have left some other time (during the NCAA's five-year probe)?" the Seahawks' powerful new coach asked.
World Cup
Howard expected to play for U.S.
Irene, South Africa — Tim Howard walked to the swimming pool, sporting a Band-Aid over his ribs. The message to his American teammates was clear.
"That just gives us confidence as his partners to expect him out there," defender Jay DeMerit said Tuesday.
The U.S. Soccer Federation said late Monday that Howard is expected to be available against Slovenia on Friday.
NBA
Kerr leaving Suns
Phoenix — Steve Kerr says he won't return as general manager of the Phoenix Suns, despite building a team that made a surprising run to the Western Conference finals.
Kerr said at a news conference Tuesday that the decision was a personal one. He insisted that reports of a contract disagreement with owner Robert Sarver were untrue.
"This has nothing to do with money or contracts or anything like that," he said. "This is a professional and a personal decision that I'm very, very comfortable with. My family's excited about it, too."
NFL
Haynesworth skipping camp
Ashburn, Va. — Disgruntled defensive tackle Albert Haynesworth says he will skip the Washington Redskins mandatory minicamp.
Haynesworth released a statement through Comcast SportsNet late Tuesday stating that he will "continue to work individually to prepare for training camp and the start of the 2010 season."
College basketball
Indiana St. promotes assistant
Terre Haute, Ind. — Indiana State has promoted assistant Greg Lansing to be its new men's basketball coach.
The announcement on Tuesday came a day after Kevin McKenna resigned to become an assistant to Dana Altman at Oregon.
MLB
Jones, Braves talk about future
Atlanta — Struggling through another disappointing season, Atlanta Braves third baseman Chipper Jones met with team officials Tuesday to discuss his future and told The Associated Press he's considering retirement.
Jones declined to comment directly on whether he'll retire at the end of the season, but it seemed clear that he's made up his mind and merely needed to work out a settlement with the team over the $28 million in guaranteed money he's owed for the 2011 and 2012 seasons.
Tennis
Top-seeded Ljubicic upset
Den Bosch, Netherlands — Top-seeded Ivan Ljubicic made an early exit from the Unicef Open, losing to Alejandro Falla 6-2, 7-6 (6) on Tuesday.
Schiavone, Wozniacki beaten
Eastbourne, England — French Open champion Francesca Schiavone and defending champion Caroline Wozniacki lost first-round matches Tuesday at the Eastbourne International.
Obit
Ex-St. Bonaventure star dies
Olean, N.Y. — Tom Stith, a prolific scoring small forward who led St. Bonaventure to its first NCAA tournament berth in 1961, died after a lengthy battle with cancer and kidney problems. He was 71.
Copyright 2018 The Associated Press. All rights reserved. This material may not be published, broadcast, rewritten or redistributed. We strive to uphold our values for every story published.