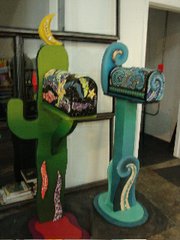 Beautiful, unique and usable — that's how Cathy Ledeker, art director for Van Go, describes the cluster of colorful mailboxes recently assembled by her artists.
"Each mailbox has its own personality and reflects something tangible of the artist who created it," Ledeker says. "The pieces display whimsy and humor but are well-made and completely viable mailboxes."
There are six different boxes, all about the same size, but they're all strikingly different in color, theme and pattern. And they were all built as auction pieces for Van Go's biggest fundraiser of the year, What Floats Your Boat? The event takes place from 6 p.m. to 10 p.m. Saturday at Clinton Lake Marina. In between dinner and dancing, the mailboxes will be sold in a silent auction along with other artwork in order to finance the group's yearly programs and activities.
"It's a new auction item," says Eliza Nichols, marketing director for Van Go, on the mailboxes. "We're always trying to come up with something new and fresh. This is our seventh year, and we try to keep items new to keep everyone excited."
The idea was Ledeker's brainchild. She thought of transforming a plain rectangle, home of letters, bills and magazines, into a plucky piece of art when she spotted a mosiac mailbox at the checkout counter of the Re Store. After that she detected several more speckled boxes sprinkled around town. And from there, she was sold. The mailboxes seemed the perfect way to add panache to a yard, while still fulfilling a practical need.
"I can say confidently each one of them has no twin anywhere on the planet," says Ledeker. "They merit owners who appreciate, adore and take proper care of them."
Ticket for the event are $60 for individuals, $400 for groups. See more information at www.van-go.org.
Copyright 2018 The Lawrence Journal-World. All rights reserved. This material may not be published, broadcast, rewritten or redistributed. We strive to uphold our values for every story published.