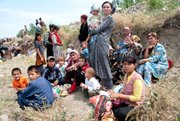 Osh, Kyrgyzstan — Ethnic riots wracked southern Kyrgyzstan on Saturday, forcing thousands of Uzbeks to flee as their homes were torched by roving mobs of Kyrgyz men. The interim government begged Russia for troops to stop the violence, but the Kremlin offered only humanitarian assistance.
At least 77 people were reported killed and more than 1,000 wounded in the violence spreading across the impoverished Central Asian nation that hosts U.S. and Russian air bases.
Much of its second-largest city, Osh, was on fire Saturday and the sky overhead was black with smoke. Roving mobs of young Kyrgyz men armed with firearms and metal bars marched on minority Uzbek neighborhoods and set homes on fire, forcing thousands of Uzbeks to flee. Stores were looted and the city was running out of food.
Kyrgyzstan's third straight day of rioting also engulfed another major southern city, Jalal-Abad, where a rampaging mob burned a university, besieged a police station and seized an armored vehicle and other weapons from a local military unit.
"It's a real war," said local political leader Omurbek Suvanaliyev. "Everything is burning, and bodies are lying on the streets."
Those driven from their homes rushed toward the border with Uzbekistan, and an Associated Press reporter there saw the bodies of children trampled to death in the panicky stampede. Crowds of frightened women and children made flimsy bridges out of planks and ladders to cross the ditches marking the border.
Interim President Roza Otunbayeva acknowledged that her government has lost control over Osh, a city of 250,000, even though it sent troops, armor and helicopters to quell the riots. Violence spread to the nearby city of Jalal-Abad later Saturday.
"The situation in the Osh region has spun out of control," Otunbayeva told reporters. "Attempts to establish a dialogue have failed, and fighting and rampages are continuing. We need outside forces to quell confrontation."
Otunbayeva asked Russia early Saturday to send in troops, but the Kremlin said it would not meddle into what it described as Kyrgyzstan's internal conflict.
"It's a domestic conflict, and Russia now doesn't see conditions for taking part in its settlement," Kremlin spokeswoman Natalya Timakova said in Moscow. She added that Russia will discuss with other members of a security pact of ex-Soviet nations about the possibility of sending a joint peacekeeping force to Kyrgyzstan.
Timakova said Russia would send a plane to Kyrgyzstan to deliver humanitarian supplies and help evacuate victims of the violence.
Russia has about 500 troops at a base in Kyrgyzstan. The United States has the Manas air base in the capital, Bishkek, a crucial supply hub for the coalition fighting the Taliban in Afghanistan.
Kyrgyzstan's interim government spokesman, Farid Niyazov, refused to say whether the country would turn to the U.S. for military help after Russia had refused. "Russia is our main strategic partner," he said.
In Washington, Pentagon spokesman Bryan Whitman said he was unaware of any requests for help by Kyrgyzstan.
Copyright 2018 The Associated Press. All rights reserved. This material may not be published, broadcast, rewritten or redistributed. We strive to uphold our values for every story published.