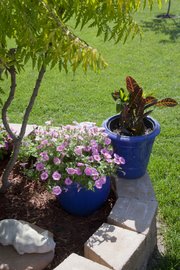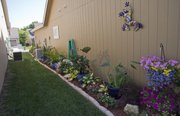 In three short years, Judy Lafond and her husband, Don, turned their small, newly constructed tiny yard into a backyard oasis. You can get ideas from her and other gardeners on next weekend's annual Tour des Fleurs.
The tour features local garden centers and private gardens. Maps to the private gardens are available at participating locations.
Lafond's garden is already one of my favorite stops on the tour and provides some great ideas for maximizing space.
Creativity came into play when Lafond started landscaping. She primarily uses hanging baskets and planters of different sizes and shapes to add height and interest.
The container plantings are interspersed with perennials and shrubs that are planted in the ground. On the perimeter of the back yard, a row of arborvitae and a weeping blue juniper create a border that make the patio feel like an outdoor room.
"The weeping juniper stays really narrow," Lafond says. The tree's slender growth habit and branching structure help it anchor the other plantings. "That plant is my swan — it was really ugly when I got it, but now you can see that it has a nice form."
Another arborvitae, planted in a 4-foot tall cylindrical planter, mirrors the shrubs on the yard's edge and adds height to Lafond's patio plantings. Nearby are two tropical hibiscus that Lafond overwinters in her garage and a gardenia.
Lafond wanted to incorporate water in her garden, too, but didn't have the space for a big pond or waterfall. Instead, she used a few large water bowls amongst the other plants and planters. Water cannas and parrot feather plants accent their soil-loving neighbors. A lion's head water feature mounted to the exterior wall of the house provides the soothing babbling sound that water gardeners know and enjoy.
"We like to sit out here about every evening," says Lafond. "In the fall we get the firepit going."
The lacy appearances of a Bloodgood Japanese maple in the perimeter of the yard and a Laceleaf Japanese maple on the edge of the patio soften the larger-leaved plants near them. Sun-loving annuals, including petunias, angelonia, callibrachoa and scaveola, highlight hanging baskets and ground-seated planters. Scaveola also fills a birdbath near the corner of the patio.
Tropical mandevilla vines with deep red flowers (unlike the pink-flowering variety that is more commonly available) grow in short, round, deep-blue pots. A few high-quality silk flowers peek out of baskets and planters in suitable locations. Lafond says she likes to incorporate a little faux greenery because she already has enough to water.
Lafond is extending the patio garden up one side of the house. Eventually, she'll wrap her landscaping all the way around. "I have to do just a little at a time."
Some of Lafond's plants serve an additional purpose. "My husband is the cook. I am the outdoor person," Lafond admits. "I have to have an herb garden. He uses it all the time."
Lafond's granddog, Scrappy, seems to think the garden is great, too. The plantings shade the patio and give him a good place to cool off from the hot summer sun.
Tour Des Fleurs runs 9 a.m.-6 p.m. Saturday. There is a garden party from 7 p.m. to 9 p.m. at Clinton Parkway Nursery following the tour. A $10 ticket gets you a map to the private gardens, special discounts at participating retailers and admission to the garden party. The garden party features food from Local Burger, live music by Prairie Acre and a benefit auction of garden-related items. Proceeds from the auction go to the ECKAN/Just Food food pantry.
Stop by participating locations for tour specials and maps to private gardens: Clinton Parkway Nursery, The Henrys' Plant Farm, Low Maintenance Landscape, Pendleton's Country Market and Water's Edge.
— Jennifer Smith is the Horticulture Extension Agent for K-State Research and Extension in Douglas County. Contact her or an Extension Master Gardener with your gardening questions at 843-7058.
Copyright 2018 The Lawrence Journal-World. All rights reserved. This material may not be published, broadcast, rewritten or redistributed. We strive to uphold our values for every story published.