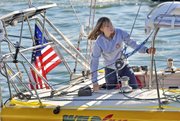 Los Angeles — What were her parents thinking? Many people were asking that question as a 16-year-old girl sat adrift and alone in the frigid southern Indian Ocean, her ship's mast dashed along with her around-the-world sailing effort.
Abby Sunderland's ship was rolling in 20- to 30-foot waves as she waited to be rescued by a boat that was expected to arrive early today.
She set off a distress signal Thursday after rough seas disabled her ship and her satellite phone reception. There were 20 hours of tense silence before a search plane launched from Australia's west coast made brief radio contact with Sunderland and found her alive and well Friday morning.
"The aircraft (crew) spoke to her. They told her help was on the way and she sounds like she's in good health," said Mick Kinley, acting chief of the Australia Maritime Safety Authority, which chartered a commercial jet for the search.
"She's going to hang in there until a vessel can get to her," Kinley told reporters in Canberra.
Many people criticized Sunderland's parents for allowing the high-risk adventure, one of several by young people looking to make the record books. Some veteran sailors said it's all but irresponsible to send a teenager off alone in a small boat, knowing it will be tossed about like a toy for 30 or more hours at a time by the giant waves that rake the Southern Hemisphere's oceans this time of year.
"In Abby's case she was lucky," said Derrick Fries, a world sailing champion and author of the standard instruction manual "Learn to Sail." "It's only a matter of time until we end up with a tragedy on our hands."
Sunderland's family defends her trek, saying that as a lifelong sailor she was as well prepared for the journey as anyone could be. Her brother successfully circled the globe last year when he was about the same age.
"Sailing and life in general is dangerous," her father, Laurence, told The Associated Press. "Teenagers drive cars. Does that mean teenagers shouldn't drive a car? I think people who hold that opinion have lost their zeal for life. They're living in a cotton-wool tunnel to make everything safe."
The driving analogy didn't impress many parents who lit up Internet message boards with criticism. One, Tammy Davis of Makanda, Ill., said in a subsequent interview there's no comparison between a car breaking down in a city and a person being trapped alone in the ocean.
"My 21-year-old son runs triathlons for the University of Illinois," Davis said. "Would I want him to run triathlons alone? No."
Abby Sunderland set sail from Los Angeles County's Marina del Rey in her boat, Wild Eyes, on Jan. 23, trying to become the youngest person to circumnavigate the globe solo.
Her brother, Zac, held the record for a little more than a month last year until Briton Mike Perham completed his own journey. The record changed hands again last month, when 16-year-old Australian Jessica Watson completed her own around-the-world sail.
Sunderland, whose father is a shipwright and has a yacht management company, ran into equipment problems and had to stop for repairs soon after beginning her journey. She gave up the goal of setting the record in April, but continued, hoping to complete the journey.
Laurence Sunderland said Friday that he "gave her the option" of bowing out at that point in her trek.
"I said, 'This isn't about media. It's about a passion and a love for the sport of sailing,"' he said. "Her words to me was, 'Dad, I know what I'm capable of. I know what this vessel is capable of and I'd like to continue."
Copyright 2018 The Associated Press. All rights reserved. This material may not be published, broadcast, rewritten or redistributed. We strive to uphold our values for every story published.