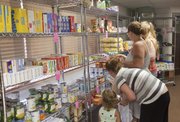 Rural food aid
The Stull United Methodist Church food pantry is located at 1596 E. 250 Road in Lecompton.
It is open from 7 p.m. to 9 p.m. the first and third Thursdays of each month and hosts the Harvesters rural mobile food pantry from noon to 1 p.m. in its parking lot on the fourth Thursday of each month.
For more information, to receive help or to give a donation, call the church at (785) 887-6521 or Harvesters at (816) 929-3000.
Poverty on main street is so visual it's hard to ignore: a homeless man sleeping, a woman asking for change, a line of people stationed outside an overnight shelter.
But take a drive into rural Douglas County, and all the signs of poverty suddenly dry up. There is no one destitute on the street, no one openly asking for help. The only signs are behind the closed doors of a barren cupboard.
"I think a lot of times what people don't realize is poverty in rural areas is almost invisible," says Nicole Tichenor, agency relations specialist for Kansas City-based food bank Harvesters. "I feel like, personally, we don't have accurate poverty information for our rural areas, just because people don't want to be counted. That's not something that people will just come out and say, 'Yeah, I'm low-income, I need help.' That sort of thing. And so I think it goes unnoticed a lot more than kind of in-your-face homelessness or in urban areas."
Tichenor and Harvesters now have a new ally in the fight against rural food insecurity in Douglas County. Harvesters has teamed up with the Stull United Methodist Church to create its second rural mobile food pantry in the county. Starting last month, those in need could head to the church, 1596 E. 250 Road in Lecompton, and take advantage of a virtual drive-thru of fresh goods.
The rural mobile food pantry is just one of the ways Stull UMC is trying to reach the food insecure in rural Douglas County. The church's food pantry, which was formed in October, is open on the first and third Thursdays each month.
"There's a couple food pantry in the city of Lawrence, and there wasn't anything out rural, in our area. And we just felt like it was a sign of the times that people are needing help," says Kirsten Price, the church's outreach servant leader at the pantry. "And so we just decided that we would give a food pantry a shot."
The church's call to organize a food pantry came with a donation, says member Brenna Wulfkuhle.
"We had a family who had some memorial funds, and we asked them if that's what they would like to do and they liked that idea," Wulfkuhle says. "So that's how we got it started, but using some memorial money."
From there, it's quickly adapted to take care of the community's specific needs. Needs that include anonymity. Those in need will often contact a church member to pick up items for them or let them in to the pantry on off-hours.
"I know that a lot of the rural community do know each other. And so, sometimes I think that can be a little intimidating," Price says. "We've expressed that if there is someone in need and they are uncomfortable coming out in a public spot, basically they can contact a church member who has access to it and will take them in at anytime. It doesn't have to be the first and third Thursdays."
And many need help, says Joanna Sebelien, chief resource officer for Harvesters.
"The USDA, interestingly enough, has said that Kansas ranks eighth among the 50 states in the number of food-insecure households. That's not the top 10 that we want to be in," Sebelien says. "And so much of that is because it is predominately a rural state."
Douglas County has almost 7,000 households and 16,000 people who don't know where their next meal is coming from, Sebelien says. And those numbers may be on the low side, because for every person reaching out for help, there are others who are careful not to let anyone know of their food insecurity. But just because the need isn't stated doesn't mean it's not there, says Tichenor.
"I think it's really important that people understand how great the need is. National statistics show that 1 and 8 people don't have enough food. And of that number, over half are children," Tichenor says. "We see it on the street sometimes and sometimes we ignore it, but it is very important to give back to your community."
And serve the Stull pantry plans to do, as much as possible, says Price.
"The Bible calls us to take care of the poor and the hungry and people in need," Price says. "So obviously if we have an abundance and are able and willing to help, we're required to do that, and we want to do that because it's the right thing to do."
Copyright 2018 The Lawrence Journal-World. All rights reserved. This material may not be published, broadcast, rewritten or redistributed. We strive to uphold our values for every story published.