Bill Self is sure of one thing in this time of great uncertainty: He does not want to succeed Lew Perkins as athletic director at Kansas University.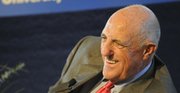 KU Athletic Director led the Kansas Athletic Department for seven years and retired on Sept. 7, 2010. Look back at his time at KU.
"No ... heck no," Self, KU's eighth-year basketball coach exclaimed good-naturedly, asked if he wanted the job upon exiting a Thursday night news conference to discuss Perkins' decision to retire after the 2010-11 school year.
Self is content to continue on as coach, hopefully in a strong BCS Conference for years to come.
He tackled two topics — Perkins' resignation and the rapidly disintegrating Big 12 — in interviews Thursday night with a horde of local media following a Thursday afternoon session with a Journal-World reporter.
"It did take me by surprise. It was surprising, but not shocking," Self said of Perkins' plan to retire. "Lew and I have pretty open conversations. He's told me he and (wife) Gwen have talked about what they are going to do for retirement and have been looking forward to that day for quite some time now. I'm not talking about the last two months, I'm talking a year or so. I knew the day would come, but it was surprising it came today."
Perkins informed Self in a 2:30 p.m. meeting in Self's office that he planned to step down after the upcoming school year.
"Usually when he walks in and shuts the door, that's not a good sign for me," Self said. "He walked in and shut the door, and I said, 'Is it over?' I was referring to the league. (I said), 'What's going on with the league? Good news, bad news?' He said, 'I'm retiring.'
"I'm, 'C'mon,''' Self added. "He went into it and talked. He was in good spirits. I think from my perspective, he has a peace about it, which is good. Regardless of what angle you are taking, the man has been through a lot in the last couple of months (with KU ticket scandal and allegations of accepting exercise equipment for access to better basketball tickets). I don't think, though, that it should be perceived that is the driving force behind what he is doing. He won't walk away from any battle or any fight. It was something he felt in his heart was something to do: for him to best serve the university to put that out (word of retirement)."
Self said loss of his boss did not mean he was entertaining the idea of leaving KU.
What other coaches are saying
Football coach Turner Gill:
On Lew Perkins: "I am saddened and I love him. Lew has done some great things for the University of Kansas and all of college athletics during his career. He has had a tremendous influence on all student-athletes he has had contact with. His leaving doesn't affect the vision our staff has for our football program. We are here to build relationships with our fans, alumni and everyone associated with the university and to bring excellence to our football program."
Women's basketball coach Bonnie Henrickson:
"In speaking with Lew, when he shared with me his decision to retire, for him personally I was happy. But honestly, professionally for women's basketball and for the athletic department, it saddens me because he has been a great leader. He's been a great role model for me. I've known him for a long, long time, before I ever got here. He has carried the flag for women's basketball across the country from an administrative standpoint, even prior to him being at Connecticut. He made what used to be very unpopular decisions for women's basketball popular for the sport — revenue, resources.
"For him personally, for his family, for his grandchildren, for (wife) Gwen, I'm happy for him. I just wrestle with my own sadness for his retirement."
Volleyball coach Ray Bechard:
On Lew Perkins: "Lew gave our Olympic sports an opportunity to compete at a higher level because of what he did for our student-athletes. We travel better. Our budget is better to recruit. Our student-athletes have a better opportunity to be competitive, and I know student-athletes and coaches that have worked for him forever will be thankful for that."
On the state of the Big 12: "When it all settles, we might be in a place as good or better than what we were. That's what we've got to look to. We have a tremendous product to sell. The university has been a lot of things to a lot of people. It'll continue to be that way."
"No, no, no, no, no, no, no," Self said. "There's been people asking me rumors, 'Is my contract tied to his contract?' and that kind of stuff? It's absolutely not. His situation is totally independent of mine and vice versa."
Self said he's thrilled Perkins will remain to help KU land on its feet conference-wise.
"A positive about it is, it is not an immediate deal," Self said. "We do need his leadership over the next year to make sure we are in the best situation we can possibly be in.
"I think his effectiveness will be just as good moving forward as what it has been. I know he'll be very driven to make sure he leaves this place in a very good way. Certainly during his time here, he's done things that have given us the chance to move forward for the next 20, 30, 50 years. Can you imagine no facilities and not knowing what league we're playing in?" added Self.
"This guy has gotten some stuff done. Of course, we've had some negative hits, obviously. I don't think anybody is running from that. Those have to get addressed. Those have to be fixed. Obviously the ticket deal has happened on his watch. He knows that and is working his tail off to rectify it and has been very open and honest with us on how he's going to do that. That doesn't mean there's guilt involved on his end. It just means there were some bad things going on that went undetected by people that were qualified to detect them. I think his effectiveness will be very important from this point forward because with conference realignment I don't know if we could have a better AD in America."
He pointed to the fact Perkins knows so many individuals in the athletic world.
"I don't know of a guy out there that is more connected. People may mention the Big East (for KU). Who knows more about the Big East than Lew?" Self said of the former UConn AD. "People may mention the ACC. Who knows more ACC people than Lew? He happened to be the AD at Maryland. There's a lot of things he can do to maneuver behind the scenes that I think can put us in the best position, and I know he's committed to do that."
The big news prior to Perkins' announcement Thursday was Colorado's leaving the Big 12 for the Pac-10.
Asked if he was personally upset with CU, Self said: "I wouldn't say upset. I'm sure Colorado is believing the domino effect has occurred and, 'We didn't want to be left behind.' They obviously were attractive to the Pac-10 for their respective reasons and everything. I am not upset with individuals but more upset that, in the purest form of competition, how things are being driven so much by where you live or how many homes are in your state. Or, 'Are you tied to other schools?'
"There are so many things out there that to me really don't have much effect on how good your football program is or how your basketball program is."
He has heard the reports that Nebraska is headed to the Big Ten with an announcement coming as soon as today or Saturday. That would mean two Big 12 schools could be out the door in a two- or three-day span.
"Two teams gone ... hey, the Big 12 can survive if two teams leave. We'll go get two more. But if the South leaves, then that of course changes everything," Self said.
He was asked if this was the craziest time in his college coaching career with one team in the conference jumping ship and perhaps more to follow.
"I don't know if it's the wildest, but certainly, the last week and the immediate future will affect not only my career, but the careers of everyone associated with this university in ways that are far bigger than any way it's ever impacted it thus far," he said.
Self said the conference KU is in impacts the way he'd sell the school to recruits.
"We like where we are — we like where we were — we still hold out hope the Big 12 South (teams) would decide it would be best for them to remain connected to the Big 12 and do what we have to do from that point forward to get it (league) exactly where we want it," Self said. "But if that doesn't happen, right now I think there'd probably be a lot of talks (with other leagues). I think we are very marketable. I think there's certainly people out there who would like to have a university like Kansas and a storied basketball program like that with an unbelievable following as part of their package. But right now, it's a very nervous time here."
Self pointed out some obvious KU strengths.
"We've been a university, an athletic department in the last three years that's won a BCS bowl and national championship in the revenue producing sports. To think the inventor of the game (James Naismith) was our first coach, and the father of basketball coaching (Phog Allen) was our second coach. He coached Adolph Rupp, and he coached Dean Smith, and Wilt Chamberlain played here. We won three NCAA championships, five total, and to think we could be left out at least initially, I'm not sure it'll be over the long term, it's pretty tough to stomach to be quite candid."
Bumps, bruises: There were no serious injuries in Wednesday's campers game, Self indicated. Marcus Morris' hard fall resulted in a severely bruised tailbone. No bones were fractured. Thomas Robinson, who ran into Markieff Morris in the paint, does have a broken nose, which will keep him out of pick-up action for at least a few days. Markieff Morris survived the hit with just a cut in his mouth that required three stitches to close.
Realignment chatter: The Tulsa World quotes Oklahoma AD Joe Castiglione as saying the Big 12 could look to BYU and Air Force as possible replacements for Nebraska and Colorado if Texas elects to hold the conference together. ... The Washington Examiner has a Twitter post saying the Big East will seriously considering adding KU, Missouri, Kansas State and Iowa State. The league may consider a 20-team league for basketball and 12 for football, the paper said.
Copyright 2017 The Lawrence Journal-World. All rights reserved. This material may not be published, broadcast, rewritten or redistributed. We strive to uphold our values for every story published.