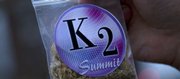 Lawrence is a focal point for the current debate in the Kansas Legislature about banning the active ingredient in an herbal substance known as K2. Follow the debate and the progress of the Kansas bills here.
Law enforcement officials have again raided a downtown Lawrence store that was once at the center of the K2 controversy.
Authorities conducting the raid on Sacred Journey, 1103 Mass., shut down the business for most of the day Thursday. The windows of the store were covered in white paper as law enforcement officials gathered evidence and questioned employees.
"I have a key, so I just barged in and said, 'I work here. What's going on?'" Sacred Journey employee Lydia Shontz said. "They said they had a search warrant."
Shontz said she believed the officers where agents with the Drug Enforcement Agency and the Johnson County Sheriff's Department. A van with a U.S. Department of Justice tag was parked outside the store, as well as unmarked cars with Johnson County and Miami County tags.
Jim Cross, a spokesman for the U.S. Attorney's Office, said he could not confirm or deny that Sacred Journey was the subject of a federal investigation.
Shontz said authorities were focusing on the diet supplement Que She (pronounced KAY-shee), a mix of Chinese herbs said to be a miracle weight loss pill.
"It's not that popular at all," Shontz said. "I don't think I've sold more than two boxes in the whole year that I've worked here."
Store owner Natalie McAnulla, who sat on the ground during the raid, locked out of her own store, said she was frustrated that her business was once again being targeted.
"I don't know why they keep doing this. We've been in the red since the last raid. Why do they have to shut down the business for the day?" McAnulla said.
In February, the store was shut down during a raid by agents from the U.S. Food and Drug Administration, with authorities seizing the store's supply of the marijuana-like substance K2.
On Tuesday, the officers could be seen removing several boxes of evidence from the rear door of the business and hauled out at least one computer before turning the store back over to the owner around 3 p.m.
McAnulla said she was not charged with anything criminally, but was notified that she was being charged $272,000 in taxes.
"Last year when I got this store I thought it was such a blessing," she said. "I thought I was providing an amazing service to an organic community."
"It seems unnecessary," Shontz said, of the raid. "It seems like a lot of force and a lot of money put into something that could've been solved with very little force, very little money and very little aggression."
Sacred Journey planned to re-open for business Friday.
Copyright 2018 The Lawrence Journal-World. All rights reserved. This material may not be published, broadcast, rewritten or redistributed. We strive to uphold our values for every story published.