Washington — Embattled Democrat Blanche Lincoln of Arkansas narrowly won nomination to a third Senate term Tuesday night, overcoming a labor-backed challenger and defying a nationwide anti-establishment tide. California Republicans installed a pair of wealthy businesswomen, first-time candidates Meg Whitman and Carly Fiorina, atop their ticket for the fall campaign.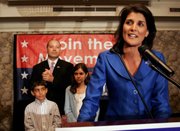 On the busiest night of the primary year, tea party activists flexed their muscles in South Carolina, pushing state Rep. Nikki Haley ahead of three rivals in the Republican gubernatorial race. Shy of a majority, she will face Rep. Gresham Barrett in a June 22 runoff.
Another tea party favorite, Sharron Angle, won the right to challenge Senate Majority Leader Harry Reid of Nevada in November. She triumphed with help from an unlikely combination: conservative supporters along with friends of the incumbent who calculated she would be the easiest Republican to beat in the fall.
In the marquee race of the night, Lincoln had 52 percent of the vote in nearly complete Arkansas returns, to 48 percent for Lt. Gov. Bill Halter.
The result marked a stunning defeat for organized labor, which had poured more than $5 million into an effort to dump Lincoln in retaliation for her departure from party orthodoxy on numerous issues. Seemingly headed for defeat in the race's final days, she unleashed a campaign ad that acknowledged voter anger with Washington, and she also got a boost from former President Bill Clinton, who told voters that out-of-state unions were trying to steal their votes.
Lincoln will meet GOP Rep. John Boozman in November in a race that national Republicans have targeted.
Nearly two decades after California Democrats helped fashion a "year of the woman" in national politics, Republicans served notice they hope to turn the tables.
Whitman, the former CEO of eBay, lapped a crowded field of rivals, and will run this fall against former Gov. Edmund G. Brown Jr., who had held a variety of offices since stepping down as governor in 1983.
California Republicans tapped Carly Fiorina, a former CEO of Hewlett-Packard, to challenge three-term Democratic Sen. Barbara Boxer in the fall. Victories by Boxer and fellow California Sen. Dianne Feinstein were standout events of the 1992 elections that sent record numbers of women to Congress, many of them Democrats.
At least two incumbents did not fare as well as Lincoln on Tuesday.
Republican Gov. Jim Gibbons of Nevada fell to Brian Sandoval, a former federal judge, after a term marked by a messy public divorce and allegations of infidelity. Rory Reid, the son of the Senate majority leader, won the Democratic nomination.
And Republican Rep. Bob Inglis of South Carolina trailed challenger Trey Gowdy by double digits, though he qualified for a runoff on June 22 in the solidly conservative district. The challenger campaigned as an opponent of the 2008 financial bailout legislation that the incumbent supported.
Copyright 2018 The Associated Press. All rights reserved. This material may not be published, broadcast, rewritten or redistributed. We strive to uphold our values for every story published.