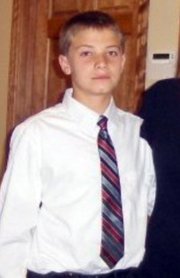 Friends of the family of a missing Lawrence teen spent Monday posting more fliers around local businesses, hoping someone will have information that leads to the boy's safe return home.
"I just know that his mom's worried sick, as any parent would be," family friend Crystal Dunn said. "I have two kids of my own, and if it was me, I wouldn't know what to do."
Lawrence police consider Stevie Drake a runaway. The 13-year-old South Junior High student was last seen on the afternoon of May 29, just days after a Douglas County judge signed a court order allowing Stevie's father to have only supervised visits with his son. Because the case does not involve a child abduction, no statewide Amber Alert can be issued.
Stevie has run away before, but now that he's been missing 10 days, family members feel there's cause for concern.

"We're just exhausted," Stevie's aunt Elizabeth Alvarez said. "We don't sleep well because we don't know where he is."

Lawrence police said Stevie's case is not unusual. The department received 185 reports of runaways in 2009 and to date in 2010 another 47 kids have been reported as runaways. Still, police actively search for the children.
"We get so many reports of runaways that if we have information that somebody knows where a juvenile or runaway might be, we will go to those places of interest and seek them out if we can," Lawrence police Sgt. Matt Sarna said.

Sarna said the majority of runaways are found through word of mouth.

"We find a lot of the juveniles through the kids," Sarna said. "A lot of them know where they're hiding out, and they'll give us a call and let us know."

That's why friends and relatives are continuing to spread the word, plastering Stevie's pictures all over town.
"Anything we can do to get the word out," Dunn said, while hanging fliers at a strip mall near Clinton Parkway and Kasold Drive. "Don't hesitate to call. If you're a young kid and know where he is, you won't get in trouble. His mom and dad just want to know if he's OK."

Anyone with information on Stevie's whereabouts can call the Lawrence Police Department at (785) 832-7509 or the anonymous Crime Stoppers hot line at (785) 843-TIPS.

Copyright 2018 The Lawrence Journal-World. All rights reserved. This material may not be published, broadcast, rewritten or redistributed. We strive to uphold our values for every story published.