Photo Gallery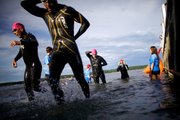 Kansas Ironman 70.3
The Ironman competition took place at Clinton Lake on June 6, 2010.
It might have lacked the dramatics of last year's performance, but Chrissie Wellington wasn't exactly complaining about Sunday's winning Kansas Ironman 70.3 showing.
After rebounding from a flat tire during the biking portion to finish as the top female in last year's event, the Great Britain native had a comparatively smoother day Sunday at Clinton State Park, finishing as the event's top female in 4:07:49 to break her previous course record by more than seven minutes.
"It was absolutely phenomenal," said Wellington, who placed 11th overall after finishing 15th overall a year ago. "I'm always a bit emotional when I come through the finish line, but this is a very special event for me. I'm so happy to be able to race here, and to get the victory again means so much to me."
Wellington, 33, took the lead midway through the second leg of the race — which featured a 1.2-mile swim, 56-mile bike ride and 13.1-mile run and featured roughly 2,100 competitors from 14 countries — and had little trouble sustaining it the rest of the way.

Her times of 2:21:16 on the bike leg and 1:15:12 in the run were the fastest of any women competitors by a significant margin, and her final time was more than 16 minutes faster than the women's runner-up.
Pip Taylor, a part-time Lawrence resident, finished second among the women for the second consecutive year, completing the course in 4:24:29.
"I really, really love the sport," said Wellington, a three-time Ironman world champion who has developed a bit of a cult following in Lawrence after making a cameo at a local Dog Days workout last June. "I love pushing my body and my mind to the limit, (and) of course I love racing all the other great competitors, the men and the women out there, and the crowd support just keeps me going and gives me the wind beneath my wings."
In a battle between two of the sport's most high-profile male athletes, Chris Lieto held off runner-up Andy Potts by 24 seconds to take the overall title in 3:44:07 on a day in which temperatures remained in the 70s for most of the morning.
His victory, however, didn't come without a fight.
Lieto appeared to be in good shape following the bike portion of the race, holding a nearly five-minute lead over Potts heading into the run leg, but Potts quickly began making up ground during the run, steadily closing what had been a sizable gap.
"He had me a little scared toward the end there," Lieto conceded. "I knew he was running fast trying to catch me. He always digs, and he always pushes hard, and he goes for the win."
This time, Potts fell just short.
"I was really positive out there in my mind and just kept thinking 'Keep pushing, keep pushing, (keep) taking big chunks out of the gap here,'" said Potts, the 2007 Ironman world champion. "Just keep pushing, and if Chris lets up a little bit, maybe I take advantage and jump up and pounce on it."
When it was suggested he might have won if the race were a half mile longer, he smiled and added, "We signed up for a 70.3-mile race; that's how many miles we did, and Chris beat me to the line.
"He was really strong today."
Copyright 2018 The Lawrence Journal-World. All rights reserved. This material may not be published, broadcast, rewritten or redistributed. We strive to uphold our values for every story published.