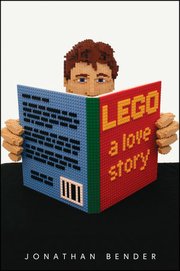 Past Event
When: Monday, June 7, 2010, 7 p.m.
Where: Lawrence Public Library, 707 Vermont St., Lawrence
Cost: Free
-->
-->
When Jonathan Bender was 30 years old, he decided he wanted to revisit a favorite pastime from his childhood: playing with Lego bricks. But he didn't just go out and buy a set at Toys "R" Us. The Kansas City, Mo., resident embarked on a yearlong investigation of the national Lego community and wrote a book about it.
Bender will appear today at Lawrence Public Library, 707 Vt., to read from his book and talk about Lego. He took a few minutes from his book tour to answer a few questions.
Q: Did you find any controversies in the Lego world?
A: Of course. The purists are aghast when somebody inserts an LED into the chest of a mini-figure to create a Lego ironman.
Q: What is a Lego purist?
A: Lego purist believes that you can't use any parts, elements or stickers that Lego hasn't manufactured for your building or creation. In addition, you can't paint or cut bricks to make them fit your needs. Purists believe that working with more limited options requires them to be more creative, and the end result is a truer reflection of the core principles of Lego.

I've been painting and gluing bricks since I was 12 years old, so I think I left behind the purist world a long time ago.

Q: How many Lego bricks do you have?
A: I have thousands. I've been a bit afraid to count them. They're supposed to be contained in my office, but they're in the living room and our bedroom — pretty much every room in the house.

Q: Does this bother your wife?
A: Kate has turned out to be quite a fan herself. She knows just as much as I do and is probably the best builder in the house.
Q: Will you be bringing Lego creations to your library event?
A: You might just see an appearance by the Miniland versions of myself and my wife — they're about 4 inches tall. Miniland is a scale of building employed by those who work at LegoLAND theme parks. Miniland Las Vegas with a recreation of the Las Vegas strip is just one of the cities that has been recreated at a 1:20 scale at the park in Carlsbad, Calif. The two figures I built are scaled to where they could walk around Miniland New York or San Francisco.
Q: Could you build a Jayhawk out of Lego?
A: I could, although it wouldn't be a very pretty Jayhawk. I can only build two animals that will be immediately familiar to the eye — a camel or a whale. So if you need a camel-Jayhawk, I'm your man.
Q: Who is the most amazing Lego builder you've met?
A: It's easily Nathan Sawaya — the designer of the book's cover. He's an actual brick artist who left his job as a corporate lawyer to pursue a career in building Lego sculptures. He has a traveling exhibit, the Art of the Brick, and over a million bricks in his studio/collection.
Q: Who is the weirdest?
A: Dan Brown is one of the most interesting adult enthusiasts in that he has created the toy and plastic brick museum in Bellaire, Ohio, inside of a former middle school. He bought a second middle school at auction, just to house his 2.5 million-brick collection. Dan is the classic American entrepreneur who is hoping to create a museum that honors the artistic use of Lego bricks. He has possibly the largest private collection of Lego sculptures in the United States, and he's opened it up to the public. He also owns the Guinness World Record for the largest Lego image — a mosaic of a moving truck that takes up the entire floor of what was the school's gymnasium.
Copyright 2018 The Lawrence Journal-World. All rights reserved. This material may not be published, broadcast, rewritten or redistributed. We strive to uphold our values for every story published.