New York — Nick Zito is a long-shot kind of trainer, it seems. At least in the Belmont Stakes.
The Hall of Famer who won the 2004 Belmont with Birdstone at 36-1 odds and the 2008 Belmont with Da' Tara at 38-1 odds, saw his two favorites run second and ninth behind Drosselmeyer on Saturday.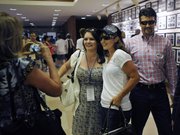 Ice Box, the 9-5 favorite, tired in the final quarter-mile and was unable to produce the come-from-behind run that he did in finishing second in the Kentucky Derby.
Fly Down, the 5-1 second choice, closed late on the outside and was beaten by three-quarters of a length.
The Brooklyn-born Zito has mixed feelings about the result.
"Fly Down ran great," Zito said. "Obviously, I was disappointed about Ice Box. He didn't deal with the heat well. We'll have to regroup and see what happens."
Jose Lezcano, who was aboard Ice Box, said the heat and a slow early pace made it tough on his colt.
"We were in good position throughout the race," Lezcano said. "When I asked him to run, he showed no interest. He didn't have it today. He didn't fire."
John Velazquez, aboard Fly Down for the first time since the colt's first start in October, said "he gave me something extra."
"As soon as we got past a mile, he started picking it up. Mike (Smith, aboard Drosselmeyer) rode a really good race. He kept me there when I tried to ride my horse between horses, and he (Fly Down) was a little intimidated."
Tired Dude: The 11⁄2-mile Belmont Stakes was a bit more than First Dude could handle as he finished third.
He was a game pacesetter three weeks ago in the Preakness, setting all the fractions in the 13⁄16 mile middle jewel of the Triple Crown. He held on for second, beaten only by three quarters of a length.
The gameplan was the same in the Belmont. Jockey Ramon Dominguez sent the strapping colt right to the front and they set a very sensible pace in the longest of the Triple Crown races.
This time, First Dude was running on empty in the lane, passed by Drosselmeyer and Fly Down.
"We had a perfect trip, and everything went like we planned, we just couldn't hold it together right there at the end," trainer Dale Romans said. "He ran hard, he did all the work again on the lead. I'm real happy with him. He put in a great effort. No excuses."
Dominguez could feel the colt weaken in deep stretch.
"I had a perfect trip," the jockey said. "In the stretch, he was just a little tired. I was very proud of him. I couldn't ask for anything more."
Romans felt the Preakness and Belmont experience would benefit First Dude, who has only one win in eight starts.
"He's still learning, he's still getting it together and he's still improving," Romans said. "I think we have a lot of fun races in front of us. He'll fly back to Kentucky on Monday, take a little break and figure out what to do with him."
Sarah Palin, the former governor of Alaska and vice presidential candidate was in the stands as part of the First Dude rooting section. First Dude, out of the mare Run Sarah Run, is named for Palin's husband Todd.
Been there before: Drosselmeyer gave Hall of Fame trainer Bill Mott his first Triple Crown win. However, it was not the first time Mott had saddled a Belmont winner.
Mott was a stand-in for Elliott Walden in 1998 when Victory Gallop got up by a nose to deny Real Quiet a Triple Crown sweep. Walden broke his leg in a pickup basketball game and hobbled around as he prepared Victory Gallop for the Belmont.
On raceday, Walden called on Mott to tighten the girth.
"I actually put the saddle on," Mott said. "I tried to repeat that effort today and put the saddle on the same way."
Walden is now the racing manager for WinStar Farm, the owner of Drosselmeyer.
No history for Barba: Alexis Barba's bid to become the first woman to win a Triple Crown race was over as soon as the Belmont started.
Make Music for Me bobbled at the break and wound up pinched between horses. He never recovered, finishing 10th. The surprising fourth-place finisher in the Kentucky Derby also lost his left front shoe, according to Barba.
"We were hoping he would get a better break, and he tends to be fussy in the gate," Barba said. "He didn't get away clean. He wasn't where we wanted to be early on."
And he never seemed comfortable.
"He raced well at Churchill Downs, but this is the first time he raced over this track, and it seemed different to him," jockey Joel Rosario said.
Nosedive: Belmont business suffered with no Triple Crown on the line and neither the Derby nor Preakness winner in the race.
The crowd was 45,243 compared to 52,186 last year. They bet $7,598,840, a drop of 15.6 percent from 2009.
Total handle from all outlets across North America was $74,613,144, a 16.8 percent decrease from last year.
Copyright 2018 The Associated Press. All rights reserved. This material may not be published, broadcast, rewritten or redistributed. We strive to uphold our values for every story published.