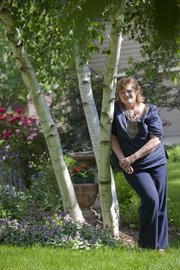 One of the keys to having a beautiful landscape is to pay attention to the amounts of sunlight different areas receive and plant accordingly. That task is sometimes more difficult than it sounds, especially when it involves accounting for seasons and growing trees.
Lawrence gardeners Karen and Randy McGrath know a lot about trying to determine how much light is available for the plants in their yard.
"When I first moved in, I just started planting stuff. If I'd waited a year, I could have figured out the lighting better," Karen says. "Just about everything I planted, I had to move."
Now, with better plant placement, the McGraths' garden thrives. In some places, plants are unsuspecting neighbors even though they have been carefully selected for pockets of sunlight and shade.
One surprising companionship is a Pink Knock Out Rose whose branches are intertwined with a Jane Magnolia. The rose grows in a pocket of sunlight that doesn't quite reach the Endless Summer Hydrangeas and Asiatic lilies nearby. Hydrangeas and lilies generally prefer part-shade and are most happy when the sunlight they get comes in the morning when rays are less intense.
Along the walk, Henry's Garnet Sweetspire (which prefer full sun to part-shade) grow in front of sun-loving Globe Arborvitae. Both are shaded during my late afternoon visit.
Despite the McGraths' careful attention to pockets of sunlight and shade, a few plants did not survive. Other factors, including soil pH, drainage and transplant stress may have been to blame.
"I planted three Japanese Maples that all died," Karen admits. Her fourth selection, a Black Lace Elderberry, grows under the shade of a River Birch. Sun-loving dwarf spirea bushes, a Knock Out Rose and a Sunny Knock Out rose grow in the same bed as the elderberry and birch. The spirea and roses are just far enough away for the sun to reach through and around the tree's canopy.
The McGraths' love of roses extends into the backyard into a small rose garden. An arbor and brick path are reminiscent of a Victorian rose garden. The area is the sunniest in the backyard but still only receives four to five hours of sunlight a day. Within the garden, the McGraths grow a few varieties from the Carefree series of roses along with an orange-blossomed variety called Livin' Easy.
In deep shade on the west side of the McGraths' home, Annabelle hydrangeas line a retaining wall. Walnut trees add an additional challenge in this area, since many plants cannot survive near a chemical that is produced by walnut trees.
To new gardeners, the McGraths offer, "Learn what goes where so you don't have to water so much and fertilize so much. When plants are happy, it's less maintenance."
Karen adds that it can be a challenge to find the balance in doing your part while maintaining a beautiful yard. Sometimes you have to be willing to try something different.
Jennifer Smith is the Horticulture Extension Agent for K-State Research and Extension-Douglas County and can be reached at 843-7058.
Copyright 2018 The Lawrence Journal-World. All rights reserved. This material may not be published, broadcast, rewritten or redistributed. We strive to uphold our values for every story published.