Busan, South Korea — World financial leaders pledged Saturday to push ahead on curbing deficits and crafting financial reforms to safeguard the global recovery, including making banks bear much of the burden for government bailouts.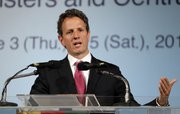 As expected, the finance ministers and central banks gathered in this southern port city finessed what some said were at times heated differences over how to reshape financial regulation and build safety nets for countries stricken by debt crises.
The Group of 20 welcomed measures taken by the European Union, the European Central Bank and the IMF, including a $1 trillion bailout, to help countries cope with the fallout from unsustainably high debt.
"All of us have a strong interest in seeing those programs succeed in restoring confidence," U.S. Treasury Secretary Timothy Geithner told reporters after the meetings ended.
Long-term, sustainable growth will depend on rebalancing growth, he said.
"The United States is moving aggressively to fix things we got wrong and to strengthen our economic fundamentals," Geithner said, noting that as Americans boost savings and investment and consume less, other countries will need to generate more growth.
"All the countries recognize the basic reality that the U.S. is reforming and adjusting and that for the world to grow at its potential it is going to require that growth outside the U.S. will come more from domestic demand than in the past," he said.
Europe's sovereign debt crisis — and Hungary's warning this week that it risks a Greek-style meltdown of its own — sharpened worries that the global economy could succumb to another downturn following the one sparked by the collapse of U.S. investment bank Lehman Brothers in 2008.
The precarious levels of indebtedness among many countries also has driven home the need to restore what in G-20 speak is called "fiscal sustainability," participants said.
"There is a significant change of tone in the language that the G-20 use on the issue of fiscal sustainability and there is a very explicit reference in the communique to those countries with serious fiscal challenges needing to accelerate the pace of consolidation," said British Chancellor George Osborne.
Copyright 2018 The Associated Press. All rights reserved. This material may not be published, broadcast, rewritten or redistributed. We strive to uphold our values for every story published.