Lima, Peru — The lone suspect in the disappearance of U.S. teen Natalee Holloway was paraded — moist-eyed and looking stunned — before reporters Saturday as Peruvians denounced him and detectives began interrogating him about the killing of a Lima student.
Joran van der Sloot arrived at criminal police headquarters in a brown Interpol SUV and was escorted across an auditorium crowded with shouting, shutter-snapping journalists three times.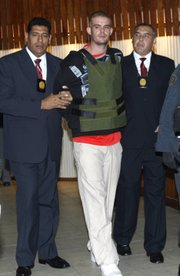 Wearing a green bulletproof vest, his hands handcuffed behind him, the husky 22-year-old stared straight ahead and didn't respond to reporters' questions or make eye contact.
Outside, seven Indian shamans in brightly colored ponchos repeatedly stabbed a cloth doll representing van der Sloot in a "spiritual punishment" ritual. "We're punishing him so that all the forces of evil are purged," one shouted.
About an hour earlier, onlookers yelled insults at the man who has dominated Peruvian front pages as police switched cars south of the foggy coastal capital.
His interrogation began almost immediately, Gen. Cesar Guardia, chief of Peru's criminal police, told The Associated Press. Van der Sloot is suspected of killing 21-year-old Stephany Flores on May 30 at his hotel room in the Peruvian capital.
Police in neighboring Chile caught van der Sloot on Thursday and expelled him across the border a day later. He was then driven 17 hours north in a police caravan.
Chilean police spokesman Fernando Ovalle said the Dutchman told them he did not kill Flores, who was found battered with a broken neck.
But van der Sloot did acknowledge that "he met her and at some point they went to a casino," Ovalle said.
Police released video Saturday taken by hotel security cameras showing van der Sloot and his alleged victim entering his hotel room together.
Flores trails van der Sloot, her head bowed, after he is given his room key. She is in the same attitude when she follows him into the room.
Van der Sloot is wearing a white, long-sleeved button-down shirt and jeans in the video. Flores wears a dark sleeveless T-shirt and jeans and has her hair up.
Later video shows the Dutchman leaving the hotel alone with his bags. He is in a patterned shirt and carries a day pack on his back and a gym bag in his hand.
Guardia, the police chief, said that at 8:10 a.m., nearly an hour and a half before leaving the hotel, van der Sloot walked across the street alone, bought bread and two cups of coffee at a supermarket and returned to his hotel room.
"In two weeks we'll know if the girl had sexual relations or if there is alcohol in her blood," Dr. Cesar Tejada, the deputy Lima medical examiner, told The Associated Press in an interview. He said toxicological reports should also be able to tell whether she was given a so-called "date rape" drug. Flores' father, Ricardo, told The Associated Press he believes van der Sloot drugged his daughter.
Van der Sloot remains the prime suspect in the May 30, 2005, disappearance of Alabama teen Holloway on the Dutch island of Aruba. He was arrested and released in that case, and faces no charges.
Van der Sloot now faces criminal charges in the United States of trying to extort $250,000 from Holloway's family in exchange for disclosing the location of Holloway's body and describing how she died.
U.S. prosecutors charged van der Sloot with the crime on Thursday, saying $15,000 was transferred to a Dutch bank account in his name. In the Netherlands on Friday, prosecutors acting on a U.S. request raided two homes seeking evidence in the case, seizing computers, cell phones and data-storage devices.
Copyright 2018 The Associated Press. All rights reserved. This material may not be published, broadcast, rewritten or redistributed. We strive to uphold our values for every story published.