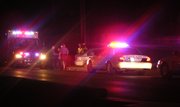 Police closed one lane of Ninth Street early Saturday morning after two cars were involved in an accident near the intersection of Emery Road and Ninth Street.
Officers were dispatched to the intersection about 2 a.m. According to Lawrence Police Sgt. Ted Bordman, the two cars were driving westbound on Ninth Street when they reached the location where the two lanes converge into one. One car, a Honda Civic, struck the other, a Toyota Avalon, from behind.
The Avalon ended up in the grass in front of Village Square Apartments on the north side of the road. The driver of the car, a 24-year-old male, was not injured, but was later arrested for suspicion of operating a vehicle under the influence.
Bordman said the Civic rolled and ended up right side up in the yard of another apartment complex on the south side of the road. The driver of this vehicle, a 24-year-old male, was transported to an area hospital via patrol car and treated for head injuries. He was released and then arrested for suspicion of driving under the influence. A 24-year-old female passenger was transported to the hospital via ambulance for non-life threatening injuries.
Both cars were disabled after the accident. The back tire of the Civic came off the vehicle.
Copyright 2018 The Lawrence Journal-World. All rights reserved. This material may not be published, broadcast, rewritten or redistributed. We strive to uphold our values for every story published.