For the most part, Zach Andregg and Joe Douglas are pretty normal guys.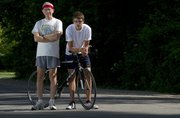 Andregg is a 16-year-old high school junior-to-be who competes for the cross country and swimming and diving teams at Lawrence High; Douglas is a 70-year-old Lawrence-based psychiatrist who has been known to take the occasional flamenco dancing class after work ("It's harder than you think," he insists).
Early Sunday morning, however, the two will roll out of bed, get dressed and spend the next few hours competing against some of the world's best all-around athletes as participants in the Kansas Ironman 70.3 at Clinton State Park.
Such is the unique makeup of the Ironman triathlon, one of the few events in today's sports world that places athletes of all kinds — young and old, experienced and unseasoned, world-class and not-so-much-world-class — in the same arena.
It's not inconceivable that either Andregg or Douglas might find themselves bumping elbows with some of the sport's most high-profile athletes. In this year's Kansas Ironman field, for instance, will be Chrissie Wellington, a three-time Ironman world champion, 2007 champion Andy Potts and Chris Lieto, the runner-up at last year's world championships.
"It's pretty awesome," Andregg said. "No other event really lets you do that unless you're up to their level. In swimming, you can't just go and race with Michael Phelps. You have to be at his level to do that. In this, you have to be at a certain level (physically), but you don't have to be a professional athlete."
This will represent the first Ironman for both Andregg and Douglas, and as such, they've spent the past few weeks doing their best to ensure that Sunday's race — grueling as it figures to be —goes well.
This has meant afternoon bike rides — that follow morning swim practices — for Andregg, while Douglas has managed to complement his normal training regimen by sneaking out of the office occasionally to complete a mid-day workout.
"I think (my co-workers) probably think it's a little bizarre," Douglas said. "But I've had my schedule arranged so I can get out of the office once a week and do something active."
As for goals regarding the 70.3-mile race (which includes a 1.2-mile swim, 56-mile bike ride and 13.1-mile run), those differ a bit.

Andregg, who advanced to the state swimming championships in each of the past two seasons and earned two top-10 individual finishes this winter, figures that swimming will be his strong suit.
And although he understands the caliber of athletes he'll be lined up against this weekend, he's hoping to finish among the best in the swimming portion, the first event of the day.
"We looked at times from last year, and I think I would have gotten second or third (in swimming)," he said. "And that was last year, so we'll see."
As for Douglas?
"I feel like I can probably finish at the head of my age group," he said, before noting that he's the only member of said age group.
Whether those battles hold up in the heat of battle, however remains to be seen.
Temperatures figure to be in the 80s Sunday, and as Ironman first-timers, both athletes acknowledged a bit of pre-race anxiety.
When it was suggested that, at the very least, he'll likely enjoy a certain sense of accomplishment following the race, Andregg smiled.
"Or I'll just feel like crap," he said. "Probably both."
Copyright 2018 The Lawrence Journal-World. All rights reserved. This material may not be published, broadcast, rewritten or redistributed. We strive to uphold our values for every story published.