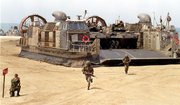 Camp Pendleton, Calif. — Thousands of Marines and sailors set out to sea Thursday for an exercise to storm a picturesque beach in Southern California in a training mission that comes amid a debate in the military about whether D-Day-style amphibious landings are becoming obsolete in modern-day warfare.
The effort is the largest amphibious training exercise on the West Coast since the Sept. 11 terror attacks, involving more than 4,500 Marines and sailors.
It also comes at a pivotal time for the Marines, who have complained about how heavy fighting in Iraq and Afghanistan in the last decade has relegated them to the status of a kind of second land army. As such, some Marines have spent little time inside a ship, much less landing on a beach.
Defense Secretary Robert Gates has raised questions about whether amphibious skills are becoming outdated in an era marked by landlocked conflict in places like Afghanistan and when enemy anti-ship technology has become increasingly sophisticated, making beach invasions much more difficult to pull off.
"We have to take a hard look at where it would be necessary or sensible to launch another major amphibious landing again — especially as advances in anti-ship systems keep pushing the potential launch point further from shore. On a more basic level, in the 21st century, what kind of amphibious capability do we really need to deal with the most likely scenarios, and then how much?" Gates asked military leaders in a speech last month at the Navy League.
Defense analysts accuse a cost-cutting Gates of trying to dismiss the value of beach landings and the needed equipment, like a $13.2 billion plan to buy large numbers of the Expeditionary Fighting Vehicle starting in 2012. The amphibious vehicles, also known as EVFs, help get troops from ship to shore while under fire and mark a significant upgrade over the current technology available to the military.
Gates is scrutinizing every aspect of the military in his search for roughly $10 billion in annual savings to sustain the combat force and invest in its modernization.
"The United States' Marine Corps has been conducting amphibious operations for 200 years. It's a unique capability and there is no analytical basis for arguing that capability won't be needed in the future," said Loren Thompson, a defense analyst for the Lexington Institute. "Everyone we are likely to fight in the future is going to be close to the sea … like Iran, like North Korea, like Vietnam, like almost any place you can mention other than Afghanistan."
And he added: "If the EFV is canceled, many marines will die in the future for lack of an adequate vehicle."
Called "Dawn Blitz," the Camp Pendleton exercise kicked off May 24 and will culminate today when troops reach the Camp Pendleton beach on 60 Amphibious Assault Vehicles, supported by 16 hovercrafts and seven amphibious ships.
It will wrap up two days before the 66th anniversary of D-Day — the world's largest amphibious invasion of all time. More than 160,000 troops landed along a 50-mile stretch of the Normandy coast on June 6, 1944, paving the way for the Allied victory.
Defense experts say the lessons learned that day still apply.
The Marine Corps says the exercise with the Navy makes an agile force capable of doing everything from assaulting an enemy beachhead to bringing food and supplies ashore to a disaster-stricken nation such as Haiti. Outgoing Commandant Gen. James Conway wants his "soldiers of the sea" to get back to their roots.
Navy spokesman Lt. Kyle Raines said many of the Marines participating in the exercise this week had not done a landing from sea before this drill. "It is a competency we need to maintain. It's something we do."
Gates has suggested that the military has overstated its requirements in a post-Cold War world and that Congress is unlikely to give the Pentagon the sizable budget increases it has enjoyed since 2001. The current defense budget, not counting the cost of fighting in Iraq and Afghanistan, is $535 billion; the administration is asking for $549 billion for 2011.
Copyright 2018 The Associated Press. All rights reserved. This material may not be published, broadcast, rewritten or redistributed. We strive to uphold our values for every story published.