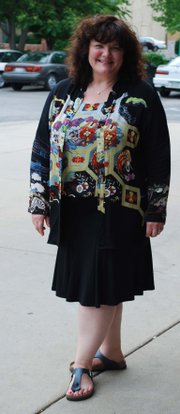 Ann Foster
Age: 47.
Sign: Taurus.
Occupation: Chemistry and AP Biology Teacher at Lawrence High School.
Hometown: Chicago.
Time in Lawrence: since 1999.
What were you doing when scouted? Shopping at Borders with my son.
How would you describe your style? Comfortable, flowy and washable — suitable clothing for a science teacher and a mom.
What are your favorite fashion trends? Cool, lightweight fabrics, peasant tops and Birkenstocks.
What are your least favorite fashion trends? Short-shorts — it's good to leave some things to the imagination.
What would you like to see more of in Lawrence? Clothing that's not just marketed toward 20-somethings. I'd like to see more clothing options for children and adults. There are lots of stores that provide baby clothing, but kids ages 6 — 14 have limited options.
What would you like to see less of in Lawrence? Backwards baseball caps and baggy pants that make walking a trial.
People say I look like: Someone that I went to high school with or your old neighbor — I always get the don't-I-know-you-from-somewhere look.
Tell us a secret: All through high school, my hair was styled like Dorothy Hamill — the wedge!
Top/Jacket: Nordstrom's, 2006, gift.
Skirt: Kohl's, 2009, $20.
Sandals: Birkenstock, 2007, $30.
Necklace: Grandmother's ring, 1998.
Earrings: Juli, April 2010, $12.
Claddagh Ring: Ireland, 1980.
Copyright 2018 The Lawrence Journal-World. All rights reserved. This material may not be published, broadcast, rewritten or redistributed. We strive to uphold our values for every story published.