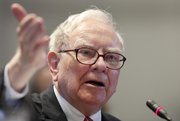 New York — Billionaire investor Warren Buffett on Wednesday defended credit rating agencies that gave overly positive grades to mortgage-related investments before the housing bust. He said the agencies were among many who missed warnings signs of the crisis.
"They made the wrong call," Buffett acknowledged.
But he said he counted himself among those who failed to foresee the collapse of the housing bubble. Buffett called it the "greatest bubble" he had ever seen.
"The entire American public was caught up in a belief that housing prices could not fall dramatically," Buffett told a congressionally chartered panel investigating the financial crisis. Had he known how bad it would get, Buffett said he would have sold his company's stake in rating agency Moody's Corp.
Buffett's investment firm is Moody's largest shareholder. He testified before the Financial Crisis Inquiry Commission alongside Moody's CEO Raymond McDaniel.
Rating agencies have been criticized for giving high ratings to complex investments backed by risky mortgages. When homeowners defaulted, the agencies downgraded billions of dollars of investments at once.
That helped spark the financial crisis.
Lawmakers have accused the industry of having a conflict of interest because the agencies are paid by the banks whose investments they rate.
Congress is considering new rules for the industry as part of the broader financial regulatory overhaul. Legislation by Rep. Barney Frank, D-Mass., would get rid of laws and regulations that require businesses to obtain credit ratings.
His proposal would make many business transactions less reliant on rating agencies' involvement. In addition, it would force credit raters to register with the Securities and Exchange Commission and allow investors to sue them for assigning recklessly high ratings.
Sen. Al Franken, D-Minn., wants to let a new regulatory board choose the rating agencies that analyze each bank deal. His proposal was included in the Senate bill.
House and Senate negotiators still must reconcile differences between the two financial overhauls.
McDaniel told the panel that "Moody's is certainly not satisfied with the performance of these ratings" and is taking steps to improve its rating process.
Still, McDaniel said in written testimony that investors should use ratings as a tool, "not a buy, sell or hold recommendation."
Despite his company's stake in Moody's, Buffett said he doesn't rely on credit ratings when making investment decisions. He makes his own judgments on companies.
"What we hope for is mis-rated securities because that would give us a chance to make a profit if we disagree with the ratings agencies," Buffett told the panel.
The FCIC subpoenaed Buffett after he declined to testify voluntarily. Buffett looked relaxed during the hearing and jokingly thanked the panel for the order to appear.
Copyright 2018 The Associated Press. All rights reserved. This material may not be published, broadcast, rewritten or redistributed. We strive to uphold our values for every story published.