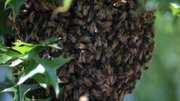 At first, Lawrence resident Joyce Barrett noticed only a group of neighbor children gathered around a tree in her front yard.
Then she saw what they were looking at: a swarm of about 10,000 bees that had collected on a tree branch outside her home near Prairie Park School.
Barrett, who works at the Kansas Department of Health and Environment, admitted it was "way cool" to see, but she figured she had to do something to get rid of her new neighbors, for their safety and for that of the playing children.
So off she went to The Community Mercantile Co-op to find a jar of honey with information about a local beekeeper who could possibly take the bees off her hands.
"I'm a biologist," Barrett said. "And I didn't want anybody coming out and harming them."
So Barrett contacted Anthony's Beehive, a beekeeping business that sells honey in local stores.
And, as they do eight to 10 times each year, Terri and Tony Schwager, of Anthony's Beehive, got in their pickup truck and drove out to the swarm.
Terri shook the branch a few times and the bees fell into a box, where they'll be taken back to join the 60 or so other hives that the company currently maintains.
Stings are rare, Terri said, as the bees are typically pretty docile. She'd heard, however, that one child had hit the swarm with a baseball bat.
Needless to say, that's not recommended.
She and her husband relocate swarms back to a safe place for free, she said, out of concern for both the bees and nearby residents.
"I'd rather get them there than have them be exterminated or have somebody be injured because of their foolish antics," Terri said.
Copyright 2018 The Lawrence Journal-World. All rights reserved. This material may not be published, broadcast, rewritten or redistributed. We strive to uphold our values for every story published.