Past Event
with music by Danny Pound Band / Approach / DJ Syrus / Ardys Ramberg and John Lomas / Congo Square
When: Sunday, June 6, 2010, 6 p.m. to 10 p.m.
Where: Abe & Jake's Landing, 8 E. Sixth, Lawrence
Cost: $20
-->
-->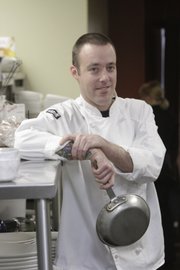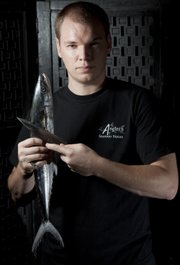 We're located in the Kaw Valley and Lawrence is often referred to as "The River City," but how often do you think about the Kansas River?
If you drive over the Kansas River bridge daily, you might have an inkling of thought about it, but it might be nothing more than "When will the construction cones finally be a thing of the past?"
But there are a few folks in town who want you to think about the river. Really think about it.
And so they're bribing you with food. And music. And a whole lot of fun.
A small group of Lawrence locals are organizing the River City Cook Off, a combination "Top Chef"-type challenge, educational experience, concert and charity dinner.
The event, taking place this Sunday right along the river at Abe & Jake's Landing, is spearheaded by husband and wife Jake LaSorsa and Ingrid Klevmark, as well as Blue Sky Wind and Solar's Asa Collier and Jenny McKee, and will benefit the Friends of the Kaw.
"It's such a polluted water shed. It's so polluted," says LaSorsa, a personal chef. "And yet ... it's not very human to give up on the river. It's like your mother. ... Polluting Mother Nature is like cutting the branch that you're sitting on."
The cook-off portion of the event features some of Lawrence's most prominent chefs: Pachamama's Ken Baker, Zen Zero's Subarna Bhattachan, Global Cafe's Rafael Gonzalez, Angler's Jeff Lewis and Tortas Jalisco's Angel Alvarez.
They'll be competing for the "Catfish Trophy" by preparing two to three dishes for the crowd. One dish must be vegetarian and one must include local ingredients.
"I think food has its unique power to bring people together," Lewis says. "I think it's a great cause for the community, just get everybody involved in a singular thing is a good idea."
Baker has done cooking competitions before, but he says the unique challenge with this cook-off is that he won't know his demographic before he gets there. It's like preparing for a catering event totally blind, he says.
"I don't really have a target audience in mind, so that kind of makes it interesting. Whereas at the restaurant, I know who I'm cooking for, for the most part," Baker says. "I guess I'm trying not to look at it like a competition. I'm just going to do what I do, put my heart and soul into it."
For his part, Lewis says that though he's never participated in a formal cooking competition he's sure of one thing. He cannot wait to see how his fellow competitors will approach the challenge.
"I think it'll be good to see everybody's approach to it," Lewis says. "I think as a community event, it's going to be really interesting. I honestly wish there were more chefs involved."
Besides the cook-off, attendees' $20 tickets will also get them access to a free organic kids buffet and music by DJ Syrus, Ardys Ramberg and John Lomas, Danny Pound, Congo Square and Approach, plus a view of the river itself from Abe & Jake's.
LaSorsa says that even if people attend for the food and music rather than expressly for the cause that he hopes to just get as many people as possible thinking about the river, which will be hard to miss from Abe & Jake's picture windows.
"The water means everything to all of us," LaSorsa says. "I want people to look out and see the river. And see what we're talking about. See that this is what we want to clean up. Look how beautiful it is."
Copyright 2018 The Lawrence Journal-World. All rights reserved. This material may not be published, broadcast, rewritten or redistributed. We strive to uphold our values for every story published.