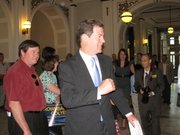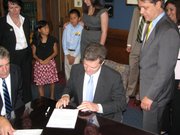 Topeka — With a signature and a check for the $1,920 filing fee, U.S. Sen. Sam Brownback, R-Kan., on Tuesday officially entered the 2010 race for governor.
His newly announced lieutenant governor running mate, state Sen. Jeff Colyer, R-Overland Park, said to Brownback, "There's no turning back now."
The two then gave short speeches to enthusiastic supporters. The candidates promised to rebuild the economy, lower taxes, change the school finance formula, and focus on families.
They offered no specifics and then departed for appearances in six more cities through Wednesday.
So far, Brownback faces opposition in the Aug. 3 Republican Party primary from political newcomer Joan Heffington of Derby, whose running mate is Mark Holick, a pastor.
A mirror image
By selecting Colyer, Brownback picked a conservative mirror image of himself.
The leading Democratic candidate for governor, state Sen. Tom Holland of Baldwin City wasted no time in pointing this out.
" .. Sam Brownback's decision to put another extreme conservative on the ticket demonstrates that he has no intention of working with, or listening to, moderate Kansans.
"That's why I hope moderate and independent Kansans will join me and my campaign as we focus on the things that truly matter to our state: creating jobs, protecting our schools and working together to find solutions to the challenges facing Kansas," Holland said.
During his speech, Brownback did recognize Senate President Steve Morris, who is considered a moderate Republican. "I look forward to working with you," Brownback said, and Morris replied, "Same here."
Prior to the speech, Morris was asked what he thought of Brownback's choice of Colyer.
Morris was silent for several seconds. "I don't want to second guess," he said. Finally, he said that Colyer would probably be helpful in getting Brownback — who has served in Washington, D.C., for 16 years — up to speed quickly on state issues.
Opposed tax increase
During the just completed legislative session, Morris and Colyer were on opposite sides on the issue of taxes.
Morris and other moderate Republicans joined with Democrats, led by Gov. Mark Parkinson, to approve a 1-cent increase in the state sales tax. They said that after six rounds of budget cuts, more cuts would do permanent damage to schools, public safety and social services.
Colyer voted against the tax increase.
On Tuesday, Brownback described raising taxes during a struggling economy as "unwise and unsustainable."
Brownback promised to unveil soon a political and administrative "Road Map for Kansas" that will focus on the economy, education and families. He said it would be similar to the Republican Contract with America, a package of conservative principals and goals, that has been touted by some as instrumental in ousting congressional Democrats from power in 1994.
Asked if he would work to repeal the sales tax increase, Brownback said he would look at the mix of taxes to see what would be best to help spur the economy.
He said the school finance formula needs to be changed to provide more flexibility and innovation, but declined to get into specifics. He promised school funding would remain equitable and that the share of education funding in the state budget would continue as is.
"Education is the primary function of state government and it will continue to be," he said.
An opponent of the federal health reform, Brownback said he believed changes to the plan will "happen at the ballot box" over the next two election cycles.
Colyer also hammered on the idea that the state is spending too much money. "We just can't keep doing things the same old way," he said.
Colyer was one of five senators who voted against the sales tax increase but voted for the $8.2 billion transportation plan, which relies in part on sales tax revenue.
Colyer is a plastic surgeon who has been active in the private relief organization International Medical Corps, and has provided medical treatment to war victims in Africa and Asia.
In 2002, he ran unsuccessfully for the GOP nomination in the 3rd Congressional District, which includes east Lawrence. He won a seat in the Kansas House in 2006 and then was elected to the state Senate two years later.
Copyright 2018 The Lawrence Journal-World. All rights reserved. This material may not be published, broadcast, rewritten or redistributed. We strive to uphold our values for every story published.