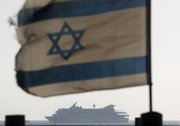 Jerusalem — Israel's bloody, bungled takeover of a Gaza-bound Turkish aid vessel is complicating U.S.-led Mideast peace efforts, deepening Israel's international isolation and threatening to destroy the Jewish state's ties with key regional ally Turkey.
While Israel had hoped to defend its tight blockade of Hamas-ruled Gaza with Monday's high-seas raid, it appeared to be hastening the embargo's demise, judging by initial international condemnation.
The pre-dawn commando operation, which killed nine pro-Palestinian activists, was sure to strengthen Gaza's Islamic militant Hamas rulers at the expense of U.S. allies in the region, key among them Hamas' main rival, Palestinian President Mahmoud Abbas, as well as Egypt and Jordan.
"The attack on a humanitarian mission ... will only further alienate the international community and isolate Israel while granting added legitimacy to Hamas' claim to represent the plight of the Palestinian people," said Scott Atran, an analyst at the University of Michigan.
The Mediterranean bloodshed dealt another blow to the Obama administration's efforts to get peace talks back on track. It raised new questions about one of the pillars of U.S. policy — that Hamas can be left unattended as Washington tries to broker a peace deal between Abbas and Israeli Prime Minister Benjamin Netanyahu.
The raid tested U.S.-Israeli ties that have not yet fully recovered from their most serious dispute in decades, triggered by Israeli construction plans in east Jerusalem.
The interception of the six-boat flotilla carrying 10,000 tons of supplies trained the global spotlight on the blockade of the territory. Israel and Egypt sealed Gaza's borders after Hamas overran the territory in 2007, wresting control from Abbas-loyal forces.
The blockade, under which Israel allows in only essential humanitarian supplies, was intended to squeeze the militants. Instead, it has failed to dislodge Hamas, driven ordinary Gazans deeper into poverty and emerged as a constant source of friction and instability. In trying to shake off the blockade, Hamas intensified rocket fire on Israeli border towns, provoking Israel's three-week military offensive against Gaza 16 months ago.
European diplomats on Monday demanded a swift end to the border closure, while U.S. officials said statements would call for greater assistance to the people of Gaza. The officials spoke on condition of anonymity due to the sensitivity of the situation.
The fate of U.S.-led indirect talks between Israel and the Palestinians was uncertain.
Netanyahu canceled today's scheduled meeting with President Barack Obama in Washington, and the status of a planned visit to Washington by Abbas next week was not immediately clear.
Copyright 2018 The Associated Press. All rights reserved. This material may not be published, broadcast, rewritten or redistributed. We strive to uphold our values for every story published.