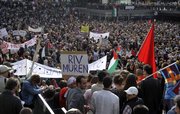 Jerusalem — Israeli commandos rappelled down to an aid flotilla sailing to thwart a Gaza blockade on Monday, clashing with pro-Palestinian activists on the lead ship in a botched raid that left at least nine passengers dead.
Bloodied passengers sprawled on the deck and troops dived into the sea to save themselves during several hours of hand-to-hand fighting that injured dozens of activists and six soldiers. Hundreds of activists — many of whom were apparently Turkish — were towed from the international waters to Israeli detention centers and hospitals.
International condemnation was swift and harsh as Israel scrambled to explain how what was meant to be a simple takeover of a civilian vessel went so badly awry.
Israeli Prime Minister Benjamin Netanyahu abruptly canceled a planned meeting with President Barack Obama in Washington to rush home. The global reaction appeared likely to increase pressure to end the embargo that has plunged Gaza's 1.5 million residents deeper into poverty.
Copyright 2018 The Associated Press. All rights reserved. This material may not be published, broadcast, rewritten or redistributed. We strive to uphold our values for every story published.