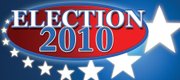 Find detailed candidate profiles, campaign finance information and complete election coverage in our Election Guide.
Douglas County Clerk Jamie Shew isn't sure whether it's increased interest in this year's election or more people than usual going on vacation next week.
Either way, more people are voting in advance of this year's Aug. 3 primary election than they have in previous years.
So far, 900 people in Douglas County have voted, which is about 200 more voters than at the same point in 2006.
"I can't tell if (it) is just part of more people using advance voting or more people are going on vacation or if I will have a higher turnout," Shew said.
Advance voting ends at noon Monday at the Douglas County Courthouse, 11th and Massachusetts streets. On Saturday only, advance voting will be held from 9 a.m. to 1 p.m. at the Douglas County Courthouse, Lecompton City Hall, Eudora City Hall and Baldwin City Library.
For those wanting to vote by mail, the deadline to request a ballot is 5 p.m. Friday. The ballot must be returned to the Douglas County Courthouse by 7 p.m. Tuesday.
Shew noticed interest in this year's primaries picked up after candidates' debates and mailers started getting more heated. The Republican candidates for the U.S. Senate seat being vacated by gubernatorial candidate Sam Brownback are generating the most interest. U.S. Reps. Todd Tiahrt and Jerry Moran are seeking the GOP nomination.
"The Senate race is probably the biggest one drawing people. There is a fairly high interest," he said.
Overall, Shew expects to see about a 20 percent turnout rate among registered Republicans and a slightly lower number for the county's Democratic voters.
Unaffiliated voters also can participate in primaries. If they wish to vote on the Republican ballot, they must change their affiliation to Republican. To vote on the Democratic ballot, they can choose to change their affiliation or not.
On Tuesday, the county's 65 polling places will be open from 7 a.m. to 7 p.m.
Copyright 2018 The Lawrence Journal-World. All rights reserved. This material may not be published, broadcast, rewritten or redistributed. We strive to uphold our values for every story published.