Photo Gallery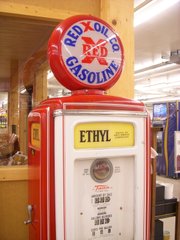 Red X
It's not easy describing a place like Red X in Riverside, Mo. Even for the owner, Zeke Young.
"Well, we're the most unique store you'll come into," he laughs.

"We've been here since 1948. We've got 90,000 square feet, and there's just a little bit of everything. Plus, with all the collections and museum pieces, it's just unique."
Red X was founded by Zeke's father and former candy deliveryman, Ed Young, as a two-pump gas station with $150 worth of inventory. Over the years, the business grew exponentially into the bustling (and some might say bizarre) discount emporium it is today.
Haphazardly scattered among the expansive grocery, liquor, hardware, 99-cent and lottery ticket departments are countless collectibles in every imaginable category.
"Dad was a big collector, and when he saw something he liked, he got it," Young says. "It might be the (Frederic) Remington bronzes, the medical equipment he got years ago or Buddhist paraphernalia. He's got a collection of glass prosthetic eyes and false teeth. There's even a washbasin from the Titanic's sister ship, the Olympic. Anything that caught his eye, he would collect it."
The elder Young's favorite things to collect were bells, having amassed more than 10,000 of them before his death in 1999.
"He was known as the dingy one," Zeke says.
Worth The Trip
Our first in a series that suggests one-stop destinations that are off the beaten path, but places that readers would want to hit the road to check out.
If you have any of your own suggestions, e-mail it to features@ljworld.com.
Watch our video package about Red X airing Friday at 6 p.m. and 10 p.m. on Sunflower Broadband Channel 6.
A three-day auction allowed his family to whittle the collection down to a manageable size, but the store showcases the remaining bells, ranging from an ancient 5-foot ringer from a Chinese monastery to a tiny dinger, the size of a thimble.
That's the adventure of Red X. Cruise down the pinot noir aisle in the so-called Sea of Wine, and you're likely to admire ornately carved ivory tusks or primitive African masks. T-shirts hang next to a gaily-painted wood zebra, left over from the store's outdoor "Kiddie Land" in the '50s and '60s. A scantily clad statue of "Bacchus, God of Wine" holds court next to a huge fiberglass bovine named "Herd it through the Grapevine."
Of course, first-time visitors are the only ones mesmerized by the antiques and artifacts. Regular shoppers hit Red X for the prices, which are, especially in the liquor department offering 500 types of beer and 4,500 different wine labels, impressively inexpensive.
It's the deep discounts, and the customers who love them, that have sustained Red X through more natural disasters than most businesses could survive.
"We've been through three floods, a fire and a microburst," Young says. "The '93 flood was catastrophic — there's the water line on the ceiling — and the fire. We used to live across the street, and I can remember, as a kid, sitting on the porch and watching it burn down. That was pretty traumatic. But, we've been through a lot of things, and that's why Dad came up with the motto: "High water, hot fires and low prices."
Red X is located at 2401 NW Platte Road and is open from 7 a.m. to 10 p.m. Monday through Saturday and 7 a.m.-9 p.m. Sunday.
And while it's not likely you'll give up your favorite local market, hardware or liquor store to shop there regularly, the 40-mile journey to Red X is worth the trip, at least once.
Copyright 2018 The Lawrence Journal-World. All rights reserved. This material may not be published, broadcast, rewritten or redistributed. We strive to uphold our values for every story published.