Irving, Texas — Last year, at this time, Daniel Thomas was just another name.
Sure, he arrived at Kansas State as a junior-college All-American and, yes, he was one of the most highly recruited dual-threat quarterbacks out of Northwest Mississippi Community College, but, still, he was just another name.
Then came the shift to running back at K-State, the 1,200-yard season, the 11 touchdowns, the punishing rushing style, and everything changed.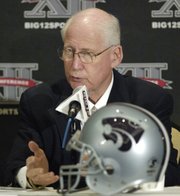 Now, instead of being just another player chosen to endure the barrage of media madness at Big 12 media days near Dallas, Thomas is widely regarded as one of the league's best backs, and his name, even when just posted on a placard on a wall behind an empty chair, draws a lot of attention.
"Arriving as late as he did and then switching positions and having the success that he had, that's unparalleled," Kansas State junior Tysyn Hartman said Tuesday. "It's going to be hard to find a story like his this year."
Unless, of course, that story is written by Thomas himself.
Selected as one of two running backs on the All-Big 12 preseason squad — Oklahoma's DeMarco Murray was the other — Thomas enters 2010 with high hopes. The outside world has placed even bigger expectations on him.
No worries.
"I think I can have an even better season than last year," he said. "I've been working out more. That alone should help me be better prepared."
Of course, having gone through a season like 2009 can only help, too.
"It was unexpected," Thomas said. "Coming in not being very well known and going on and having success … it was a roller coaster, but I enjoyed every minute of it. It was what I was waiting on, you know."
Thomas says he remembers the moment when KSU coach Bill Snyder approached him about switching to running back.
"I was all for it," he said. "Just the physical nature of playing running back. I like getting the contact."
That was no problem. Thomas was K-State's workhorse in 2009, carrying the ball an average of 21 times per game. He ran for career highs of 27 carries (vs. Louisiana), 185 yards (vs. Kansas) and four touchdowns (vs. Texas A&M;), all while facing opponents who knew he would get the ball.
His on-the-field ability is only a small part of his charm, though. Thomas is an engaging young man, who is unfailingly polite and more comfortable when surrounded by smaller crowds. The son of minister parents, Thomas used his faith to push through academic struggles, the position change and adjusting to life in Manhattan, a long way from his hometown of Hilliard, Fla. Asked how he was able to overcome it all, Thomas credited his parents and Snyder.
Snyder deflected the credit back to Thomas.
"Daniel is a very pleasant young person and very team-oriented, and he's very easy to communicate with," Snyder said. "And he gets along with everyone. He was so well received when he came to Kansas State, to Manhattan, Kan., received well by his teammates, received well by the people that surround him, support staff and coaches. So I think if there were any transition problems, they were very minimal."
If anything, the biggest adjustment came from living life in the "big city."
"It is a big city. It definitely is," Thomas said. "The biggest store we have in my town is the Winn-Dixie. And my auntie's restaurant."
That restaurant, Little Al's, serves the kind of food Thomas grew up on.
"Soul food," he said. "I usually eat the buffet, chicken, macaroni, stuff like that."
As for his preferred choice of chow in The Little Apple, which has about 50,000 more people and quite a few more restaurants than Hilliard, Fla., Thomas was all about the chains.
"I eat a lot of Subway, Chipotle, stuff like that," he said.
If five-dollar footlongs and chicken burritos led to 1,200 yards and 11 TDs in 2009, expect Thomas to stuff himself the same way in 2010.
"The main thing is, don't change anything, don't change who you are," Thomas said. "Just stay humble and do the best you can do."
Copyright 2018 The Lawrence Journal-World. All rights reserved. This material may not be published, broadcast, rewritten or redistributed. We strive to uphold our values for every story published.