Phoenix — A federal judge on Wednesday blocked the most controversial elements of Arizona's new immigration law, thrilling the law's opponents, dismaying its advocates and setting the stage for more legal battles in the future.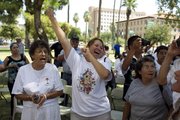 "We would have liked to have seen it all upheld, but a temporary injunction is not the end of it," said Arizona Gov. Jan Brewer, who signed the legislation in April. "I look at this as a little bump in the road."
The governor said she was looking forward to getting started on the appeals process. "Jan Brewer is not a quitter," she said.
U.S. District Judge Susan Bolton halted implementation of the parts of the law that require police to determine the immigration status of people they stop and think are in the country illegally. She also forbade the state from charging anyone with failure to possess immigration documents, a crime under the new law.
In her 36-page decision, Bolton wrote that the measure would have hamstrung the federal government's efforts to enforce immigration law.
"The federal government's ability to enforce its policies and achieve its objectives will be undermined by the state's enforcement of statutes that interfere with federal law," she wrote.
The law's supporters, who contended it was needed to stop illegal immigrants from coming to Arizona, vowed a swift appeal.
Immigrant-rights groups were ebullient. "It means justice will truly prevail," said Lydia Guzman, president of Somos America, or We Are America.
Phoenix Vice Mayor Michael Nowakowski, an opponent of the measure, told reporters outside the courthouse that the ruling was "a victory for individuals who say the federal law is the federal law."
Bolton's ruling found that the Obama administration was likely to prevail at trial in proving that the provisions requiring police to determine immigration status and immigrants to carry documents, along with two other provisions of the sweeping law, were an unconstitutional attempt by Arizona to regulate immigration. Arizona is expected to immediately appeal the decision to the U.S. 9th Circuit Court of Appeals in San Francisco.
Copyright 2018 The Associated Press. All rights reserved. This material may not be published, broadcast, rewritten or redistributed. We strive to uphold our values for every story published.