Summer is a great time to get out of the gym and hit the road — especially on a bike. CR recently asked more than 3,300 of its online readers to rate their bikes.
Fitness bikes, with their lightweight frames, narrow tires and range of gears, have flat to low-rise handlebars allowing for a more upright riding position for regular workouts or daily commuting. The Fuji Absolute 3.0 ($480) topped the list of CR fitness bikes. It scored Excellent for handling and did Very Good in climbing and shifting tests.
For low-impact recreational riding, consider a comfort bike. According to the CR survey, those who ride hybrid or comfort bikes found seat comfort and handling to be very important. Most comfort bikes have suspension seat posts and wide, padded seats to absorb the bumps in the road. But the fully upright position and heavier weight on some models can make climbing hills more difficult. CR likes the sporty Cannondale Comfort 4 ($580) for its Very Good handling.
For casual riders who occasionally venture off the beaten path, a hybrid bike is an option. The CR Best Buy Schwinn Midmoor ($250) and the Novara Corsa ($450) offer a good compromise between comfort and performance.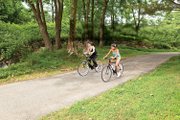 Apps for motorists
Consumer Reports recently looked at some useful smart-phone apps for motorists that it tested for the major smart-phone platforms. Apps with similar functions — and sometimes even the same name — can be found for platforms other than those noted below.
CR's editors stress that motorists should not handle their phones while driving, because that creates a distraction that jeopardizes safety for themselves and for others. Using a mobile phone while driving may have legal consequences as well.
• Car Finder. Price: 99 Cents. Phone: iPhone. Car Finder uses your phone's compass and GPS capability to mark the position of your car when you park and then guide you back to it later. It works in a parking lot or on city streets, but because it relies on the phone's GPS signal, it won't work in an indoor garage.
• DriveSafe.ly. Price: Free or $13.95. Phones: BlackBerry and Android; coming for iPhone, Palm webOS, Symbian, and Windows Mobile. DriveSafe.ly reads e-mail and text messages aloud while you drive and can send a response message saying you're unavailable. The free version has a limit of 25 words per message. The premium version can handle messages of 500 words.
• GreenMeter. Price: $5.99. Phone: iPhone. Using the iPhone's built-in accelerometer, GreenMeter monitors your driving and displays your car's mpg, fuel cost and carbon emissions. But you'll have to add a mounting device for hands-free use.
• iWrecked. Price: Free. Phone: iPhone. This simple program takes you through a list of what to do after a car crash, including taking photos of the scene and getting contact and insurance information from other drivers. It will also dial 911 and locate the nearest police station, taxi or tow-truck service to assist you.
• aCar. Price: Free. Phone: Android. Once you set it up by entering maintenance-schedule information from the car owner's manual, aCar reminds you when your car is due in the shop. It even reminds you when it's time for your car's annual inspection, and tracks fuel mileage and costs.
• RepairPal. Price: Free. Phones: iPhone, coming soon for Android. RepairPal helps you find a repair shop and get estimates. If you break down, it will locate a tow truck. After you enter your car's make, model, and other details, it will give a range of estimates in seconds. It also helps keep records and gives service reminders.
• Magellan RoadMate, Navigon Mobile Navigator, TomTom. Price: $70-$80. Phones: Magellan and TomTom: iPhone; Navigon: iPhone and Windows Mobile. Of the navigation apps CR tested, these stand out. All are easy to use and have features found on better portable GPS navigators. And all let you route to an address from your phone's contact list. But they're relatively expensive and require a separate mount, and most new smart phones already come with free navigation capability.
Copyright 2018 The Lawrence Journal-World. All rights reserved. This material may not be published, broadcast, rewritten or redistributed. We strive to uphold our values for every story published.