Louisville, Ky. — A Kentucky woman lied repeatedly in an attempt to extort millions from the University of Louisville's basketball coach, then traded sexual favors and lied again to cover up her crime, federal prosecutors said at the start of her trial Monday.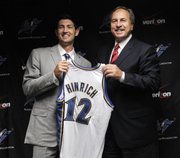 Assistant U.S. Attorney John Kuhn told jurors that Karen Cunagin Sypher threatened to ruin Rick Pitino's reputation with false allegations of rape and forced abortion.
"I submit to you that you will not believe a word she has to say about anything," Kuhn said.
Sypher, 50, has pleaded not guilty to extortion, retaliating against a witness and lying to the FBI. She is accused of demanding college tuition for her children, her house to be paid off and $10 million.
Sypher's attorney, James Earhart, told jurors Pitino pulled strings and used his influence to cover up his sexual assault of Sypher and others had their own motives for manipulating his client.
"What this case is about is power, money and influence," Earhart said. "It's about what happens when you are raped by a person with power, influence and money and you have to be destroyed."
NBA
Timberwolves, Cavs make trade
The Cleveland Cavaliers completed their first post-LeBron James personnel move on Monday night, trading troubled guard Delonte West and point guard Sebastian Telfair to the Minnesota Timberwolves for point guard Ramon Sessions, 7-footer Ryan Hollins and a future second-round pick.
In other NBA news:
• The Phoenix Suns have waived forward Taylor Griffin, who played sparingly as a rookie last season.
• Josh Powell has signed with the Atlanta Hawks as a free agent after spending the last two seasons as a backup with the Lakers.
• Chris Paul is staying put with the New Orleans Hornets — at least for now. The Hornets' star guard did not request a trade Monday in his meeting with new coach Monty Williams and top team officials, general manager Dell Demps said.
• The Boston Celtics have re-signed swingman Marquis Daniels. The seven-year veteran missed 28 games last season due to a torn ligament in his left thumb that required surgery and averaged a career-low 5.6 points in 51 games.
• Seven-time All-Star Tracy McGrady worked out for the Chicago Bulls on Monday with hopes of landing with the team he turned down a decade earlier.
• Toronto has signed free agent Linas Kleiza to a multiyear contract. The Raptors acquired the rights to Kleiza nine days ago when the Denver Nuggets opted not to match Toronto's offer sheet.
Softball
Finch ends career as champion
Oklahoma City — Jennie Finch is closing out her international softball career as a champion.
Caitlin Lowe had a two-run triple, and the United States beat Japan, 5-1, Monday night to win its fourth straight World Cup of Softball title in Finch's final game in red, white and blue.
Finch was pulled with two outs in the seventh and received a standing ovation as she headed into the dugout.
NFL
Bengals owner wants to sign T.O.
Cincinnati — Bengals owner Mike Brown wants to bring receiver Terrell Owens aboard.
Brown said Monday that the team has discussed a contract with Owens and his agent, Drew Rosenhaus. The Bengals passed on the chance to sign the 36-year-old receiver after a tryout in March, but have given it more thought now that he remains a free agent.
Titans sue Kiffin, USC
Nashville, Tenn. — The Tennessee Titans are suing Southern California and coach Lane Kiffin for "maliciously" luring away assistant running backs coach Kennedy Pola a week before training camp opens.
Williams: Dez dustup 'not a big deal'
San Antonio — Dallas Cowboys receiver Roy Williams can't even get his 4-year-old son to carry his shoulder pads.
Williams joked after Monday's practice that he was mad at him too, a day after rookie receiver Dez Bryant refused to carry Williams' pads.
As for the drama created when first-round pick Bryant said Sunday that he wouldn't participate in one of the rookie rituals of carrying a veteran's pads off the field after practice, Williams says it is "not a big deal" and that the teammates are fine. Williams was still holding his pads while signing autographs.
Coach Wade Phillips says he talked to the team about what he calls "a non-issue."
Auto racing
NASCAR fines star drivers
Charlotte, N.C. — NASCAR has fined at least two of its star drivers this season for making critical comments about the racing series, the Associated Press has learned.
People familiar with the penalties told the AP the comments were considered disparaging to the sport. The people spoke on condition of anonymity because NASCAR is not publicly identifying the top drivers it fined. They say one driver was penalized as much as $50,000.
Copyright 2017 The Associated Press. All rights reserved. This material may not be published, broadcast, rewritten or redistributed. We strive to uphold our values for every story published.