Photo Gallery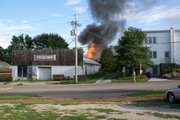 Fire rips through Lecompton cabinet store
Numerous fire crews worked Monday night to keep a fire at Wood N Stuff Cabinets in Lecompton from spreading to nearby buildings.
515 E. Woodson Ave.
Firefighters spent Tuesday monitoring the charred remains of the Wood-N-Stuff shop as hot spots continued to flare up.
The Lecompton fire chief expects crews to remain on the scene into this morning after the fire caused the roof to collapse Monday evening at the shop, 515 Woodson Ave. Crews initially got the majority of the fire under control around 11:30 p.m. Monday.
"The heavy fire load in there is still burning, and it keeps flaring up," said H. Wayne Riley, chief of Lecompton Fire/EMS. "We keep putting water on it, but it's a hot fire. You've got a lot of wood that's stacked up in there, and it's just going to burn."
The hot spots made it tough for investigators to begin their work to determine a cause and put a price tag on the damage. Fire officials expected to have better information sometime today.
"It's pretty well gutted inside. It's pretty well totaled," Riley said.
According to county records, the building owned by David K. Powell is appraised at $155,000.
Dozens of firefighters from several communities arrived minutes after the blaze started around 6:30 p.m. Monday. They sprayed water from every side of the building to douse the flames. Workers at the cabinet-making company typically use combustible items, such as stains and lacquers.
Despite damage to the business, Lecompton residents were thankful no one was injured and that nearby buildings were saved.
The post office next door seemed to only have one warped rain gutter. The garage of a nearby house suffered some siding damage.
Members of Lecompton United Methodist Church directly west of the business also breathed a sigh of relief Tuesday.
Church members Monday evening safely evacuated about 100 Vacation Bible School children from the building. But fire officials OK'd the church for Bible school Tuesday.
The older part of the building, including the sanctuary, originally opened as the Windsor Hotel in the 1800s before it became the church.
"We were real lucky," said Gregg Sledd, lay leader and chairman of the church's administrative board. "We got a couple of cracked windows but no windows broken out. We lost some vinyl siding off the back side of the church. Other than that, it's mostly cosmetic."
Copyright 2018 The Lawrence Journal-World. All rights reserved. This material may not be published, broadcast, rewritten or redistributed. We strive to uphold our values for every story published.