Topeka — U.S. Sen. Sam Brownback, R-Kan., who is running for governor, cast an advance ballot Monday in the Republican Party primary.
Brownback faces Joan Heffington of Derby in the GOP contest. The winner will face state Sen. Tom Holland, D-Baldwin City.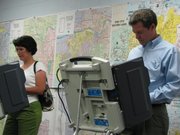 In speaking with reporters after he voted, Brownback said:
-- The federal government should complete building a fence on the U.S.-Mexico border. Brownback said he supported Arizona's passage of SB 1070, which allows local police to question suspects on their residency status. He criticized the Obama administration for challenging the law, but declined to say whether he would support enacting such a law in Kansas, saying it depends on whether the U.S. gains "control" of the border.
--He plans to roll out a "roadmap" for the future of the state in August, and the plan will focus on economic growth and education. He said that if elected, working on school finance will be a major focus. He said the state "can't run afoul of Montoy," which is the lawsuit that ordered increased funding, but he indicated more local funds could be used to fund extra school activities. He said he also opposes any move toward the state requiring school district consolidation.
-- He declined to say who he voted for in contested GOP races, except his own, in which he said he voted for himself.
Copyright 2018 The Lawrence Journal-World. All rights reserved. This material may not be published, broadcast, rewritten or redistributed. We strive to uphold our values for every story published.