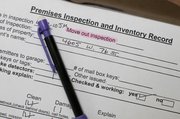 If you are moving out of a rental property, follow these simple steps to get your full security deposit back.

Step 1: Haul away all trash and debris from both inside and outside the house. Do not leave anything behind as a "favor" to the next tenant.
Step 2: Mow the yard, weed the gardens, sweep and clean all outdoor living areas, including porches, steps and sidewalks.
Step 3: Empty out all cupboards, drawers and closets. Use a damp cloth to wipe them down inside and out. Take all hangers or supplies with you.
Step 4: Remove everything, including ice, from the refrigerator and freezer. Clean both inside and out with warm soapy water. Dust the top and clean behind it, too. Once it is clean, leave the refrigerator running to keep it fresh inside.
Step 5: Clean the oven inside and out, including the sides. Clean the stove top and replace the drip pans beneath each burner.
Step 6: Clean all other appliances inside and out. Change the filter on the furnace and make sure the air conditioner is free of dust. Wipe register vents down with a damp cloth.
Step 7: Remove and clean all light fixture covers. Replace any burnt out light bulbs. Dust fan blades.
Step 8: Clean outlet covers and switch plates. Replace any that are missing or broken.
Step 9: Remove nails and hooks from walls. Patch any holes with spackling paste. Sand and paint, if necessary.
Step 10: Clean all walls and baseboards. Magic Eraser cleaning pads work miracles on scuff marks and finger prints. Antibacterial wipes work wonders on baseboards and trim.
Step 11: Dust mini blinds. Replace broken or missing window coverings.
Step 12: Clean doors and windows. Replace broken glass or torn screens.
Step 13: Clean toilets, including the outside and base of the toilet bowl.

Step 14: Clean your tub or shower with a solution of TSP to remove soap scum build up. Use a Clorox bleach pen to eliminate mildew stains along grout lines. Remove or replace the shower curtain. Wipe down cabinet drawers and cupboards.

Step 15: Sweep the floors, mop, vacuum and rent a carpet cleaner to shampoo the carpets.
Now take a deep breath and relax — if you did everything correctly, you should be seeing dollar signs in place of the dirt and dust you saw before.
Copyright 2017 The Lawrence Journal-World. All rights reserved. This material may not be published, broadcast, rewritten or redistributed. We strive to uphold our values for every story published.